College of Medicine and Deltoid Inc. Signed an MOU for medical education on Metaverse
College of Medicine and Deltoid Inc. Signed an MOU for medical education on Metaverse
College of Medicine (Dean: Eunhee Ha) signed a Memorandum of Understanding with Deltoid Inc. on March 8th for medical education and research on metaverse.
Dean Eunhee Ha, Associate Dean of Academic Affairs Sung Ae Jung, Associate Dean of Research Sung-Chul Jung, Research Professor So Hyun Ahn at Medical Research Institute from Ewha Womans University and CEO Yo-seup Kim, COO Hee-jung Noh, and employees of Deltoid Inc. attended the MOU signing ceremony on metaverse – not in person.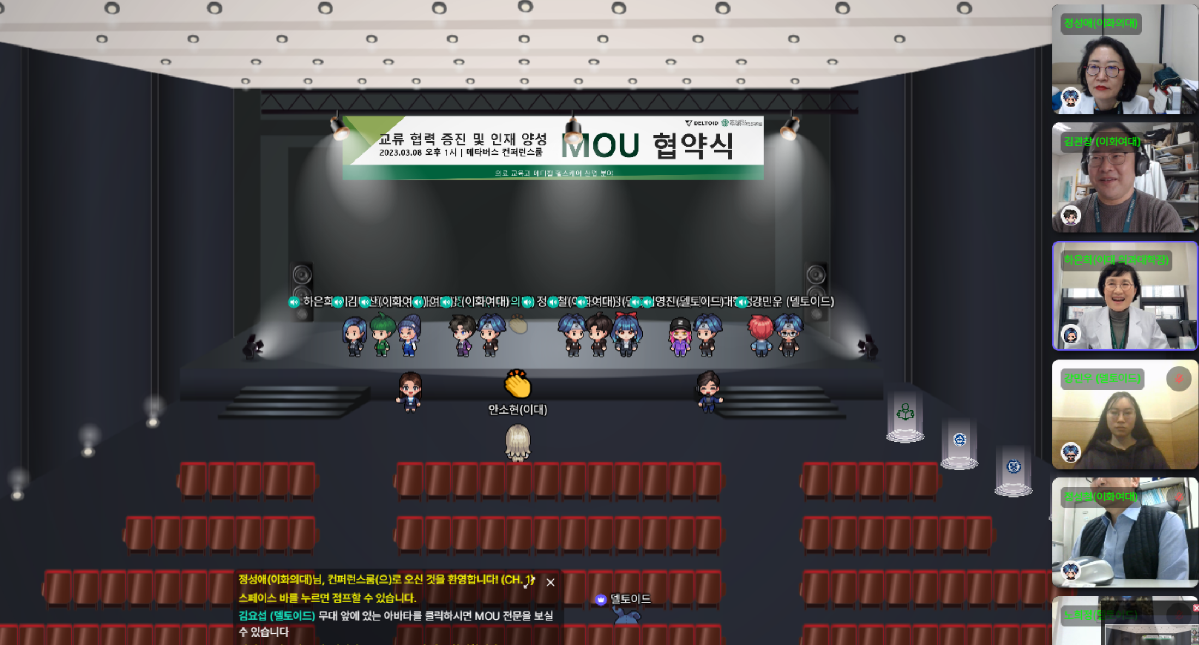 ▲ MOU Signing Ceremony on Metaverse
What is more notable is that the event took place at the metaverse hall planned, designed, and built by students from Medical Innovation and Women Entrepreneurs II, an additional free elective clerkship course. While being educated on metaverse, students planned and designed many metaverse spaces that meet students' actual needs, such as study rooms for preparing for the Korea Medical Licensing Examination, open study rooms, student club rooms, meeting rooms for group projects, and many more.
"I am so happy to sign the MOU for medical education on metaverse, it means a lot because we are the first medical school to do so in Korea, and now our students at the College of Medicine can enjoy more opportunities to learn directly from their experience in cutting-edge medical industry ecosystem." Dean Ha said. She also added that she would make more efforts to use metaverse in more classes, such as chapel courses, so that Ewha can foster more talents to lead the medical industry in the age of the fourth industrial revolution.
"Beginning from this MOU with Ewha's College of Medicine, we will explore the potentials of industry-academia collaboration for discovering more creative and innovative ideas We will also make more efforts to build and expand the medical metaverse platform." CEO Kim said.
Both institutions will collaborate in the medical education and healthcare field to foster talents.