The Office of Global Affairs (Dean: Choi Won-Mog) hosted the President's luncheon for Ewha Global Partnership Program (EGPP) Scholarship Holders.
Launched by Ewha to foster global women talents, the EGPP is Korea's first full scholarship program for female talents from developing countries, and a representative global nurturing program for women along with Ewha Global Empowerment Program (EGEP) and Ewha-KOICA, which are operated by Ewha as a way to fulfill social obligations and share its outstanding educational capacity accumulated over the years with women across the world.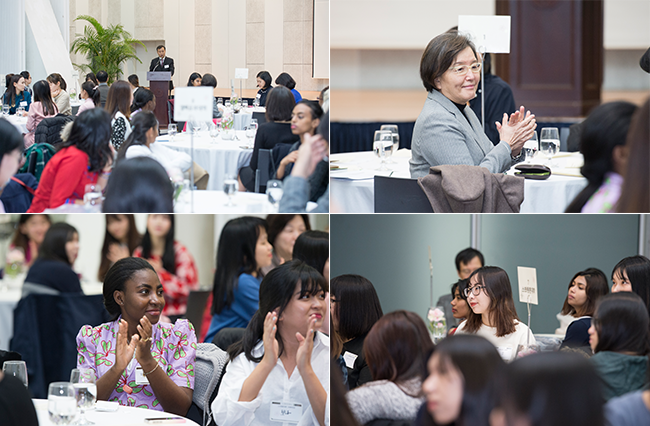 In this luncheon where 80 people including the holders of the EGPP scholarship participated, faculty members on administrative appointments and the persons concerned encouraged the EGPP scholarship holders. As a special event, Sirirat Sirinat, an alumni from Thailand who entered the Department of the Korean Studies at the Graduate School of International Studies (GSIS) in 2006 when the EGPP launched, was invited to speak on women's leadership and the role of Ewha. She acquired the master's and doctor's degrees in Korean Studies at Ewha and now serves as a full-time professor and the head of the department at Silpakorn University, a prestigious university in Thailand. Sirinat said, "It was the biggest opportunity in my life to have studied what I wanted at Ewha." "I hope you would cherish your opportunity while you are here and could experience many things and then realize your dream," she added.
Over the past 11 years, the EGPP has enrolled 235 women from 39 countries and graduated 135 students from 27 countries.