"KF-EWHA Global e-school" Video Contest Is Successfully Completed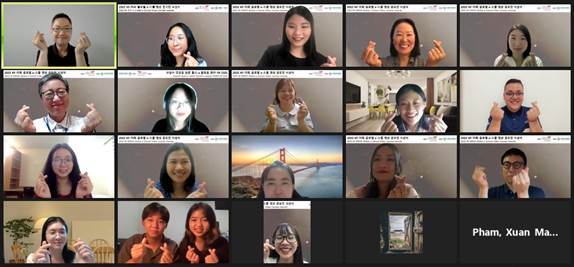 2022 KF-EWHA Global e-school Video Contest online ceremony



Hosted by the Korea Foundation (President: Lee Geun) and organized by Ewha Womans University (President: Kim Eun Mee), "KF-EWHA Global e-school" Video Contest was successfully completed on August 8 (Monday) with the online award ceremony. The Korea Foundation (KF) is Korea's leading public diplomacy organization, offering Korean studies classes to leading universities in Korea and abroad online to promote Korea to the world and strengthen international relations through the KF-EWHA Global e-school project. Since its launch in 2011, a total of 55,000 students from 61 countries have been taking e-school courses, and Ewha has been sending about 130 Korean studies and Korean language courses to 14 countries.
The video contest was held as part of the 2022 KF-EWHA Global e-school Small Grants project, under the theme of "The Link Between You and Me: The Bridge to Korea." From May 11 to June 25, 12 works were submitted from a total of 8 schools in Germany, Mexico, Vietnam, Russia, and Thailand. The entries newly interpreted the phenomenon of Korean studies through comparison with Korea and their own countries based on what they had learned through e-school lectures. The students' passion and motivation to learn Korean and Korean culture were well reflected in their works.
The grand award was given to "Korea and Vietnam's Chuseok," created by Nguyen Zhen Vananh and Zhen Dao Kanzi from Ho Chi Minh City University of Social Sciences and Humanities. The excellence awards were given to "Korean Table Manners" (Bui Nguyen Ant, Ho Chi Minh City University of Foreign Languages and Information Technonlogy) and "How Korea and Mexico are different?" (Carlos Hesus Alkaraz Silva, University of Colima) At the awards ceremony, the KF president Lee Geun delivered a welcoming speech, saying, "I hope this opportunity will help you understand Korea more deeply and establish an intimate network with students studying Korea from all over the world." Kim Eun Mee, the president of Ewha Womans University, congratulated the winners, saying, "I hope it will be a special memory to you about Korean culture and language." Sun Hee Park, the professor of Korean Studies at the Ewha Graduate School of International Studies and head of this project, mentioned "The experience shared by the participants will be a good model for students who wish to take KF-EWHA Global e-School lectures in the future. Also, I hope this video contest to be an opportunity to attract interest in KF-EWHA Global e-School from overseas universities and students." Students and faculty members from local universities participated in the awards ceremony to celebrate their participation and the award.
All participants were presented with certificates of participation. Winners were presented with certificates of award. The winners will be given the opportunity to take classes at Ewha summer school from August 9 to 23. The winners thanked KF and Ewha for providing opportunities to share and exchange culture with participants from various countries, saying, "KF-EWHA Global e-school lectures were a great opportunity to learn Korean and understand Korean culture deeply. We participated in the contest with the desire to share about Korea and Korean culture that we had learned through the lecture, so it is a great honor to win the award."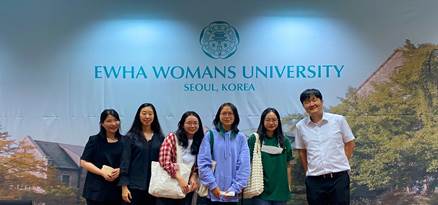 Video contest winners invited to Ewha Womans University international summer school and Kim Jun-soo, head of the Ewha Office of International Affairs

The KF-EWHA Global e-school Video Contest entries and awards can be found on the KF-EWHA Global e-School YouTube channel (https://abit.ly/brllqo).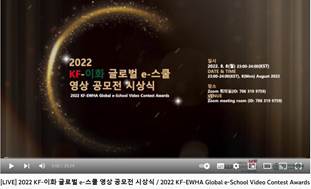 2022 KF-EWHA Global e-school Video Contest Award Ceremony Video