Ewha Department of Content Convergence Selected as the Organization in charge of the 2022 AI Learning Data Construction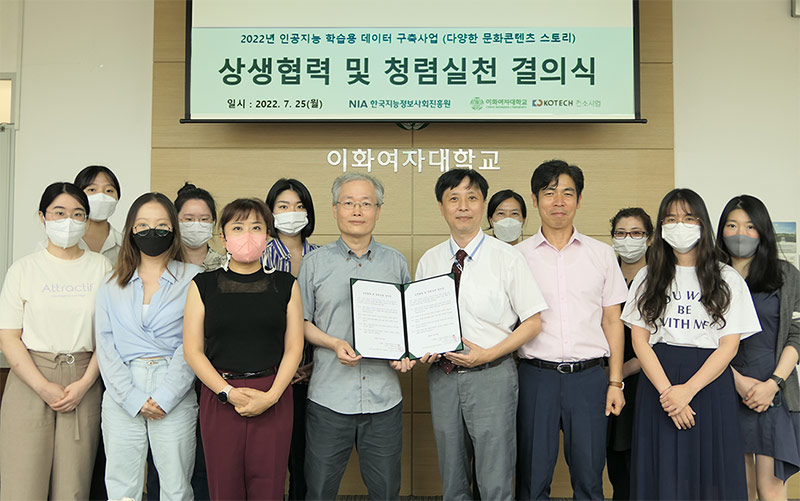 Ewha Department of Content Convergence (Task manager: Prof. Myoung Jun Kim) of the College of Science & Industry Convergence is selected as the organization in charge of the "Various Cultural Content Story Data Project" among the "2022 AI Learning Data Construction Project."
Organized by the Ministry of Science and ICT and supported by the National Information Society Agency, the "AI Learning Data Construction Project" is one of the core projects of the "Data Dam" project, which is part of the "Digital New Deal" policy developed by the government, promoting the leap forward the artificial intelligence powerhouse, intellectualization innovation, and data construction for AI learning.
Ewha research team of the Department of Content Convergence organized and proposed a consortium, and the consortium formed with Kotech System is selected as the managing organization in recognition of its expertise in story data analysis. Accordingly, as the organizer, Ewha Womans University receives 2 billion won in support by the end of this year to carry out a project to build "various cultural content story data."
The purpose of this project is to establish story analysis data for the development of artificial intelligence models that recommend stories or help create them. Ewha team is planning to lead research to analyze, refine, and process the context of the story for datification. The constructed learning data can be used not only for AI technology, but also for research in the creative process and for new creative technique development.