Dr. Han-nah Kwon and Dr. Kyung-hwa Jeong from Department of Chemistry and Nanoscience, selected for 2021 Sejong Science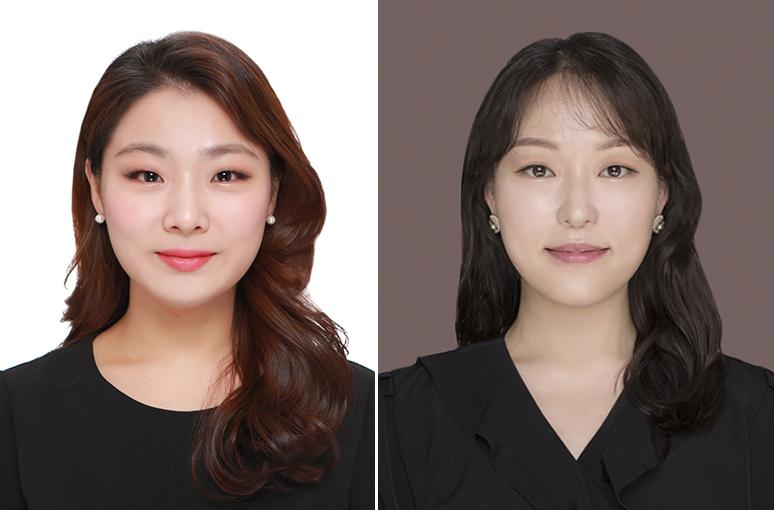 (From the left) Dr. Hannah Kwon and Kyunghwa Jeong
Dr. Hannah Kwon and Dr. Kyunghwa Jeong, a graduate of the Department of Chemistry and Nanoscience at the graduate school, were both selected as the 2021 Sejong Science Fellowship for Basic Research Projects supported by the Ministry of Science and ICT(MSIT) and the Korea Research Foundation.
Newly-established by the MSIT, the Sejong Science Fellowship aims to provide stable labor and research expenses to excellent researchers, helping pioneer the formation of new research fields and help the maturation of fellow researchers into competent researchers. The selected researchers will conduct research on their own as a principal investigator, and will be financially supported with about 126 million won a year.
During her coursework, Dr. Hannah Kwon conducted research on nano-structure materials for high-performance perovskite photovoltaic and photodetector, advised by Professor Dongha Kim. She published the paper as the first author on <Nano Energy>, <Nanoscale> and more. Meanwhile, Dr. Kyunghwa Jeong conducted research on optical sensing based on surface plasmon resonance. Dr. Jeong was also advised by Professor Dongha Kim. Both of them participated in the BK21 project during their doctoral program, producing excellent results.
Dr. Kwon is currently conducting research on improving the stability and performance of hybrid perovskite photoelectric devices through multi-dimensional materials and nano-structure design. The study aims to improve the vulnerability and interfacial characteristics of heat/light in the charge transfer layer of hybrid perovskite photovoltaic devices through the development of two-dimensional nano-materials and three-dimensional nano-structures. Furthermore, she is willing to develop a super-waterproof material, to secure stability and suggest an effective solution for commercialization. Dr. Kwon is currently working as a postdoctoral researcher at the Nanophotonics Research Center of the Korea Institute of Science and Technology(KIST).
Also, Dr. Jeong is conducting research on development of non-oxidizing metal nano-structures for robust antimicrobial action and catalytic activity implementation. The study aims to develop copper nanoparticles with resistance to oxidation in the air, thus activating antimicrobial effects and catalysts. Moreover, she believes that this technology could fundamentally solve the problem of copper-nano materials which were previously limited due to oxidation. Dr. Jeong is currently working as a postdoctoral researcher for a material research institute at the Creative Materials Discovery Program Electric Center of Sungkyunkwan University.