Research Institute of Future Education Held 1st AI Creativity Convergence Education Forum
Presentation and Discussion about "What is the way for future education in the AI era?"
Ewha President Hyesook Kim and other professors and education experts
from universities in Korea Korean gathered together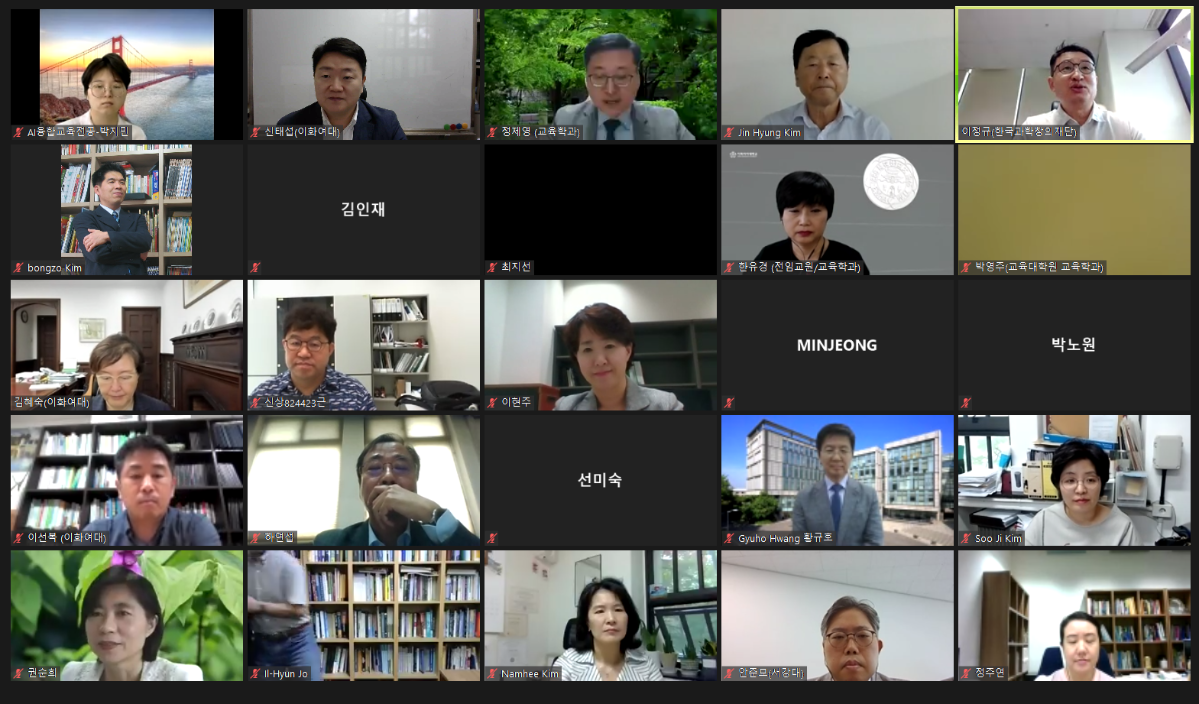 The 1st AI Creativity Convergence Education Forum was held online
Ewha Research Institute of Future Education held the "1st AI Creative Convergence Education Forum" on 29th June (Mon), co-hosted by the Creative Education Center and related project team. Forum invited professors and education experts from universities in Korea to discuss the direction and tasks of future education in the AI era. The forum was held in an online form using ZOOM to prevent Corona 19.
The forum will be attended by more than 150 people, including Ewha Womans University President Hyesook Kim, Korea Foundation for the Advancement of Science and Creativity,
Kyuho Hwang from Ewha
Womans University Graduate School of Education, Yookyung Han from Ewha Womans University Graduate School of Education, Chunghyung, chair professor at ChungAng University, Yeonseop Ha from Ewha Womans University's Institute of Future Education, Joonmo Ahn from Yonsei University's Vice President of International Campus, along with university's Institute of Technology and other professors and professors and teachers.
"Education is an important task that delivers the values and intellectual heritage of the previous era to future generations while also fostering new future creative capabilities. We face a different educational paradigm than before in the wake of the fourth industrial revolution," President Hyesook Kim said in her opening speech. "We hope that this forum will serve as a venue for deep discussions on future education at a time when the development of artificial intelligence and various digital media is changing traditional regulations on the role of educators and learners and facing fundamental questions about how and what to educate based on what talent awards" she said.
Jungkyu Lee, head of the Creative Convergence Education Division at the Korea Science Foundation, said, "I am happy to be with excellent experts through the AI Creative Convergence Forum, and the Korea Science Foundation will actively support and generously support the forum." Hwang Kyu-ho, dean of Ewha Womans University's College of Education, said,`It will be a place of conversation to examine and prepare for how education should change in the AI era, such as 'how to teach students who will live in the AI era' and 'how to educate and retrain teachers who will lead the change.'
"Korea is also supporting the development of research and AI talent while promoting innovation in the education system in preparation for the fourth industrial revolution around the world, but it is not in the field of education and AI policy," said Jeongyoung Jeong, director of the Institute for Future Education, who conducted the presentation under the theme of "The Direction of Education Policy in the AI Age." He stressed, "The policy vision should be used to foster basic AI skills of the entire people, nurture AI and experts, practice customized future education, and build AI with its support systems." He also said that creative customized future education is needed at a time when the education gap is widening due to low birth rates, aging population and deepening polarization, and that the problem of remote education gaps in preparation for after Corona should also be solved.
Taking this forum as the first step, the Institute for Future Education of the College of Education of Ewha, the Center for Creative Education, and the Project Group of Teacher Training College of Creative Education will hold a forum every month to discuss the direction and tasks of future education in the AI era.