Ewha Center for Arts & Culture Education Was Selected for Education Project for People From All Walks of Life
Ewha Center for Arts & Culture Education took a leap forward through culture and art education project for people from various backgrounds.
Center for Arts & Culture Education (Director Sangmi Cho) was selected as the only university institution for "2020 Kumdarak Saturday Culture School-Family Leisure Program" project organized by the Ministry of Culture, Sports, Tourism and Korea Arts & Culture Education Service, which had a high competition rate of about ten to one. This project is significant in that it allows participants to experience multi-layered meanings in life, together with their own pet as a lifetime partner in one-person household through culture and art education programs. Also, it confirms the possibility of continuous enjoyment of art through various types of integrated art courses and enhances the expansion of social networks.
In addition, Center for Arts & Culture Education has been continuously selected for culture and art education related projects carried out by the government, local governments and cultural foundations. Also, the center has been selected for the 'Culture and art education support project by collaboration between departments (for military units)' for two years in a row in 2019 and 2020. This year, the center provided the Second Fleet Navy with a combination of genres of sculpture art education and provided art education to Army and Air Force soldiers with engraving as its main medium.
Organized by Hanwha Group and Korea Mecenat Association, "Hanhwa Art Plus" project has been providing art education to around fifty students under the theme of modern art and sculpture as part of free semester system. As such, Center for Art & Education is seeking to expand the chance for education on culture and arts by earning various project participation opportunities.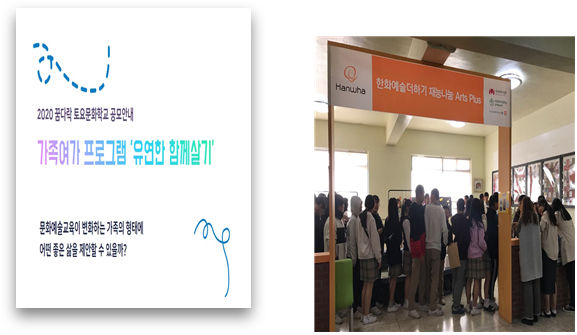 The center was reselected as the only education institution for art and culture education instructor level 2 in Seoul
The center was founded in February 2013, and has been leading the education for cultural and art educators. The center was reselected as the only culture and art educational institution in Seoul in February 2020. It has been operating a curriculum for the obtaining nationally qualified certificate in music, Korean traditional music, art, design, craft and dance, with students enrolled from all around the country, amounting up to 6500.
Art and culture education instructor is a national certification system not only with professional expertise as an artist but also with competence and qualification as educator. Under Culture and Arts Education Support Act, art and culture education instructor can work in public education facilities such as concert halls, museums, art galleries, libraries and cultural houses. Also, activities that require professional art and culture education instructor in public and private art and culture sector have been expanded as well.