[Academic] Announcement on Course Registration System with Enhanced Security(*from 2023 winter semester course registration)
작성처

교무처 학적팀

Date

2023.11.17

36822
Announcement on Course Registration System with Enhanced Security
From 2023 winter semester course registration, the security of the course registration system has been strengthened as follows to prevent macro.
1. Before course registration : Entering macro prevention key
You must enter a macro prevention key once before course registration to use "Wish list," "Course Registration",or "Chapel" menu. - After you enter the macro prevention key once, no additional macro preventive key input is requested until you logout.
[Example]

Remarks

November 21st (Tue) 08:30~

Log in to the online course registration system.

(http://sugang.ewha.ac.kr) → Access to the 'Wish list,' 'Chapel,'or 'Course Registration' → Enter the macro prevention key once

- Students can login and use the wish list 30 minutes prior to the registration period.

- You can View Courses

November 21st (Tue) 09:00~

Click on the [Enter] button of the course

- You can register for courses
2. During course registration : Macro Prevention
(1) If students try to click excessively more than the number of times that system manager set up, putting key word page would come up on the screen for macro prevention.
-When typing letters incorrectly for 5 times, users will be logged out. When typing letters correctly, course registration process will proceed.
(2) If excessive clicks occur, the course registration will be restricted with the message below.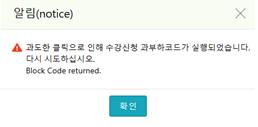 [Example of the Macro prevention key input screen]