Ewha Womans University Museum Holds Special Exhibition "Ewha, 1970, Jeong Mijo" to Commemorate Ewha's 137th Anniversary
Ewha Womans University Museum Holds Special Exhibition "Ewha, 1970, Jeong Mijo" to Commemorate Ewha's 137th Anniversary

From Wednesday, May 17 to Tuesday, October 31, Ewha Womans University Museum is hosting an exhibition in its Special Exhibition Hall (2nd floor) entitled "Ewha, 1970, Jeong Mijo." The exhibition is part of the commemoration of Ewha's 137th anniversary.
The museum has been carefully collecting and showcasing both contemporary artworks and traditional Korean cultural assets with great historical and aesthetic value. In reflection of these efforts, the museum has organized this special exhibition in order to provide a glimpse into aspects of Ewha Womans University and popular culture from the 1970s thanks to singer and artist Jeong Mijo's donation of her paintings and some stage costumes designed by André Kim that she wore on stage.

The opening ceremony for the exhibition was held in the museum lounge on Wednesday, May 17 and was celebrated with distinguished guests from within and outside of the university, including Chang Myong-Sue, Chairperson of the Board of Trustees of Ewha Womans University, President Kim Eun Mee, Kim Jong-gyu, Honorary Chairman of the Korean Museum Association, and Yoo Heeyoung, President of the National Academy of Arts. Following the ceremony, a special program of viewing the exhibition with a curator was offered, and the event "Generational Empathy Concert: The 1970s Revisited at the Museum" was held in the museum auditorium to celebrate the special exhibition.
Artist Jeong Mijo graduated from the Department of Paining at Ewha Womans University and went on to become a Korean pop diva in the 1970s. After leaving behind her singing career to study further in France, Jeong returned to Korea and served as a professor at the University of Suwon College of Art & Design until her retirement. In a contemporary world where the boundaries between fine art and popular culture are blurred, Jeong has presented herself as the embodiment of a multi-artist, a new type of creator who crosses between the worlds of music and art.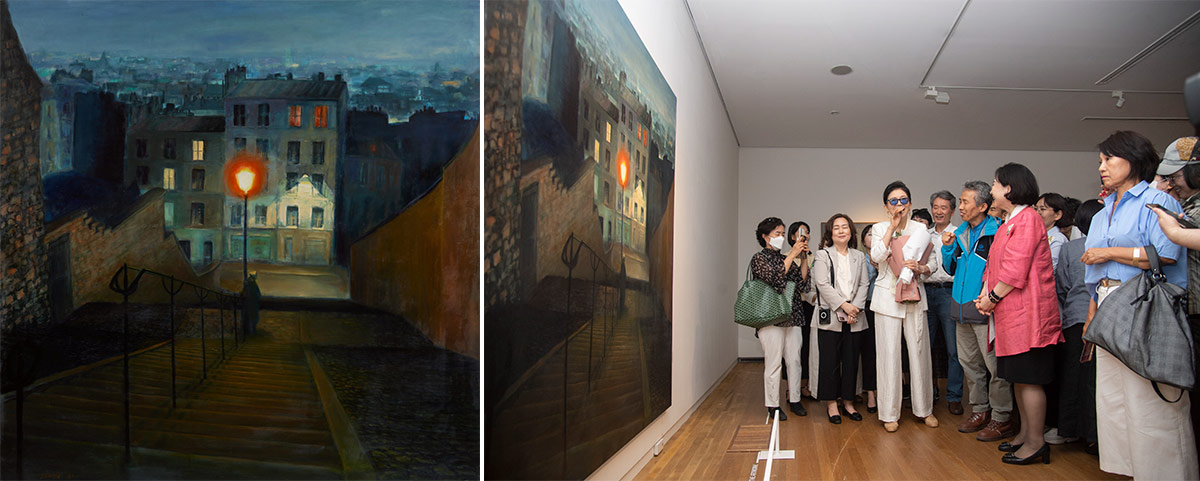 The exhibition "Ewha, 1970, Jeong Mijo" presents a selection of works that includes a work by Jeong awarded a Special Prize in the National University Art Exhibition (1971), Parisian Landscape (1979-1981), By the Seine (1981), and Champs-Élysées (1981), which were created during her studies in Paris, Montmartre (1981) which won the 16th Monte Carlo International Grand Prix Contemporary Art Exhibition in Monaco in 1982, and abstract paintings such as City-Night (2004), Festival-Night (2004), and Running (2004), which depict the light to be found in the urban nightscape. It also presents the Night View in Seoul Series (2012-2014), which depicts night views of Seoul, and other works such as self-portraits, portraits, and drawings. The exhibition also features photographs, some of Jeong Mijo's recordings on vinyl, and stage costumes created by André Kim. By also showcasing the artist's career as a singer, it allows visitors to explore her art and music together. In addition, it presents artifacts, photographs, and videos that illustrate the history of Ewha Womans University in the 1970s, a time when it served as a center for women's education and produced female artists like Jeong.

The special exhibition and the opening event were partially funded by the "2023 University Museum Promotion Support Project" organized by the Ministry of Culture, Sports, and Tourism and supervised by the Korean Association of University Museums. With a novel program that spans the realms of fine art and popular culture, the exhibition allows visitors to enjoy a variety of experiences while enjoying artworks donated by Jeong, photographs and videos of Ewha in the 1970s, and musical performances.