Research Team Led by Prof. Kim Jinheung Publishes Findings in Journal of the American Chemical Society
Amid the increased demand for the development of carbon emission reduction technologies in response to the Korean government's recent announcement of its aim to achieve carbon neutrality by 2050, the research team led by Professor Kim Jinheung from the Department of Chemistry and Nano Science at Ewha Womans University succeeded in developing a nickel photocatalyst based on a new structure that selectively converts carbon dioxide into formic acid. This finding was published in the top-rated international journal Journal of the American Chemical Society. Marking world records in carbon dioxide conversion rate and efficiency, the study attracted global attention to the point of being selected for the cover of the journal, as it is expected to provide an important foothold for the development of photocatalytic systems for the purposes of reducing greenhouse gases in the future.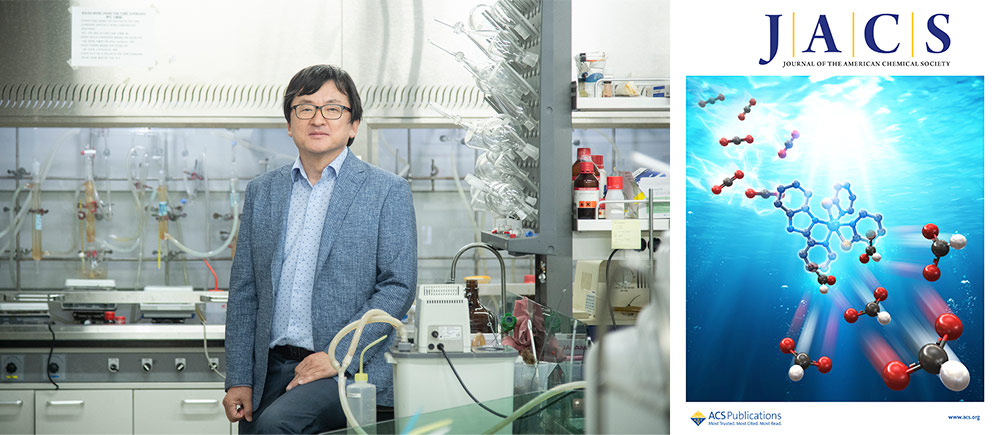 In order to solve the problem of carbon dioxide emissions, which has been identified as the main culprit for global warming, the science and technology community has been promoting research and development into converting carbon dioxide into an energy source to secure renewable energy while preserving the environment. In particular, the development of a catalyst for artificial photosynthesis, a process that converts carbon dioxide using solar energy, is one of the world's most active research fields today. However, the results so far have been limited by low reaction efficiency and the creation of impure mixtures from the reaction. Moreover, previously developed high-efficiency catalysts often contain expensive precious metals such as ruthenium (Ru), necessitating the urgent development of an efficient photocatalyst.
In the study, Professor Kim Jinheung successfully developed a new photocatalytic system using nickel, which is available in abundant quantities. In addition, the research team succeeded in converting carbon dioxide with high efficiency at room temperature and standard atmospheric pressure by irradiating visible light. Moreover, while existing photocatalysts generated a reaction mixture from carbon dioxide that included carbon monoxide, formic acid, and hydrogen, only formic acid was obtained in the photocatalytic system developed by the research team, indicating high selectivity.
Professor Kim Jinheung said, "We became the first in the world to achieve high-efficiency carbon dioxide conversion using an inexpensive metal that is available in large quantities and sunlight as the energy source. Through follow-up research, we will further improve the photocatalytic function and develop a highly efficient artificial photosynthesis system."
The research was conducted with support from the Carbon Upcycling Project Group, which is responsible for technology development in response to climate change, and the Scientific Research Center Project, both overseen by the National Research Foundation of Korea. In particular, Professor Kim's research team cooperated with other researchers at Ewha's Department of Chemistry and Nano Science to achieve one of the world's first and finest research successes, thereby demonstrating Ewha's scientific prowess.