Computer Science Major Undergraduate Students Have Published a Research Paper on UAVs in an SCI-E indexed Journal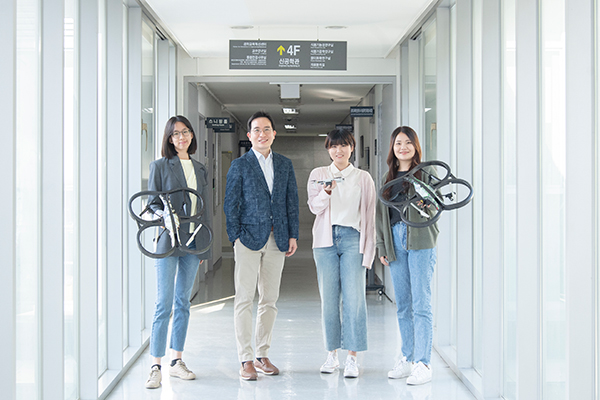 (from left) Cho, Jeihee, Prof. Lee, HyungJune, Sung, Jaeyi , and Yoon, JinYi
Cho, Jeihee and Sung, Jaeyi, undergraduate students of ELTEC College of Engineering, the incoming class of 2017 (adviser: Prof. Lee, HyungJune), conducted a study on a method to freely collect information using multiple UAVs (Unmanned Aerial Vehicle) under restricted conditions for communication and data collection in certain regions in case of emergency such as natural disasters. The undergraduate students published the result in an SCI-E indexed journal, IEEE Access as the primary and secondary authors, respectively.
In situations such as a breakdown of the road network or a natural disaster, it becomes difficult to continuously collect information on a specific area, such as the latest video and audio data. Using UAVs allows greater freedom to collect information in such a situation in spite of physical restrictions on movement. The two students proposed a drone network architecture with the capacity to collect up-to-date and on-site information of a relevant area using units of wirelessly-connected UAV swarms and provide the information to the user, beyond the current model in which individual UAVs collect disassociated and isolated data from the area of interest.
The research team also identified an algorithm-based motion planning method, which aims to optimize the stationary formation of UAVs for the continuous collection of up-to-date information and transition of their traversal formation when flying in a swarm. The introduction of this method has a potential to allow the deployment of multiple UAVs to collect data and solve the problem even under circumstances where on-site communication is disabled due to a disaster or an accident.
This paper is the outcome of research conducted by Cho and Sung during their undergraduate internships at the Intelligent Networked Systems Laboratory, while working with a Ph.D. student Yoon, JinYi (third author) and Prof. Lee, HyungJune (corresponding author). The paper demonstrates the outstanding research capabilities of Ewha undergraduates majoring in Computer Science and Engineering.
Ewha established the world's first female engineering college in 1996 and produced scientific technology professionals under the aim of "the development of science through fostering outstanding female scientists." The ELTEC College of Engineering is committing substantial and wide-ranging investments and support to sharpen the competitiveness of Ewha's engineering education, and also strives to accomplish the educational goal of cultivating female engineers with creative convergence leadership skills for new industries of the future.