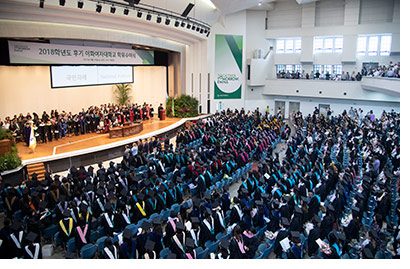 The Fall 2018 Commencement Ceremony of Ewha Womans University was held in the Welch-Ryang Auditorium on August 30 at 10 a.m. The ceremony was participated by more than 3,000 people including a total of 2,003 graduates (1,007 bachelor's, 861 master's, and 135 doctoral degree recipients), distinguished guests, and families of graduates who gathered to celebrate their graduation, a step toward a fresh start.
In her commencement address, President of Ewha Womans University Kim Heisook quoted the 8th President Kim Okgill as saying, "Light is always bright even when it is not abundant," and said, "Each of you are a ray of light filled with life and obliged to live a life with love and bond with families, friends, and colleagues in Ewha, and further with women and humans in general." She added, "The strongest weapon for uncertainty amid paradigm changes of human civilization is an open-minded attitude of thinking outside the box. I hope that Ewha graduates could be armed with open-mindedness and flexibility and have the courage to conquer uncertainties and move forward."
In the ceremony, special attention was drawn to several graduates including Hyun Yewon (International Studies), the youngest graduate aged 20; Lee Seonmyeong, the oldest graduate aged 67 who was readmitted to French Language & Literature in 45 years; and Park Seoyeon (English Education) who graduates at the top of her class with a perfect 4.3 GPA. In addition, a total of 104 international students who came from China, Thailand, Malaysia, Hong Kong, Mongolia, Nigeria, and Republic of South Sudan, including six EGPP (Ewha Global Partnership Program) scholarship recipients earned bachelor's degrees, which reconfirms Ewha's prestigious position as a global hub for female talent.