The Ewha-Harvard College in Asia Program (HCAP), an academic and cultural exchange program for Ewha Womans University and Harvard University, was held in Boston from January 20 (Sunday) to 26 (Saturday) for seven days. This program is prepared by Harvard University for fostering global leaders who deeply understand both the U.S. and Asian countries, and Ewha has been the only Korean partner since 2007.
Over 170 students from Harvard's Asian partner universities including 10 Ewha students, as well as Harvard students, attended in this conference. Generally, the HCAP program is prepared and run by students, and this year the program provided various discussion sessions and lectures on "Empowering Education" under the theme of "Global Leadership in the 21st Century". During the conference, participants who were divided into 15 groups discussed education-relating issues of each country and gave a presentation on the discussion results for each group to share diverse perspectives. In addition to that, students participated in various cultural experience activities including Talent Show for introducing their home country, a university tour in Harvard and MIT, a visit to museums and astronomical observatories, and an HCAP Prom party, promoting a good-fellowship.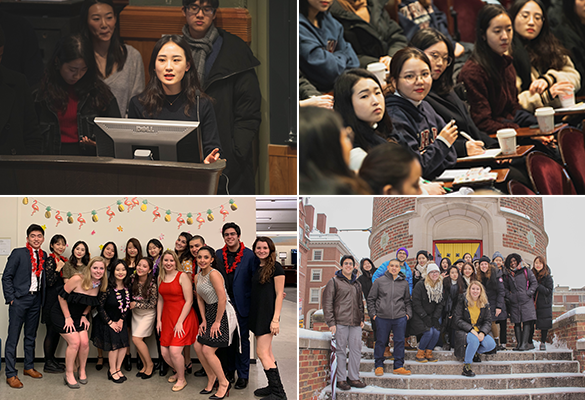 Kim Do-young (Content Convergence, enrolled in 2016), who attended the conference as Ewha's student representative this year, said "Get out of your safety zone! It was a valuable opportunity that I earned a broad perspective capable of fostering international senses through challenges after being out of school and made friends from different countries". An Chi-young (English language and literature, enrolled in 2018) said "Communication and exchanges crossing borders made me foster the tolerance for the world". In addition, Brian Kim, who was in charge of a co-chairperson of Harvard University, said "I have attended since the last year and most of all, friends who were with me in the conference remain in my memory," and promised to meet again, adding "I want to participate in the HCAP again that is a place for discussing controversial issues from each country's position, and a place for promoting a good-fellowship with friends from different countries."
The HCAP is operated in a way that Harvard University selects a leading university in major Asian countries every year and at present, nine major universities in Asian countries, including Ewha, attend in the program. The program comprises the first conference that invites students selected from each Asian university to Harvard University, and the second conference that students selected in the Harvard University visit each Asian country. This year, following the first conference in Boston, the second conference of Ewha-HCAP, hosted by Ewha, will be held from March 16 (Saturday) for seven days. In the Seoul conference that will hold a profound discussion on "Empowering Education" under the same theme as the first conference, 12 Harvard students and 20 Ewha students (including 10 of the Boston team) will attend to promote their academic exchange.