The Center for Multiculture Research (Director: Jang Han-up) co-hosted the international academic conference under the theme of "Understanding and Spread of Interculturalism" with the Lucete Humanities Project, for two days from January 18 (Friday) to January 19 (Saturday) at the Lee Sam-bong Hall of the ECC building. The conference was conducted as part of the initiative for college of humanities' research and education (CORE), and sponsored by the Asia Development Foundation (ADF).
Ewha was designated as a major hub university for multicultural social integration by the Ministry of Justice in May, 2008. In August of that year, the university opened the Center for Multiculture Research to push for training experts to lead the 21st multicultural society in Korea; conducting research on policies for social integration; and developing Korean language education programs for immigrants and multicultural citizenship education programs. The conference was organized to explore "interculturalism" in various areas with the awareness that the Korean society needs its integration focusing on the improvement of attitude that accepts immigrants, departing from studies of multicultural society that has focused on education for adaptation to Korea targeting immigrants over the past decade.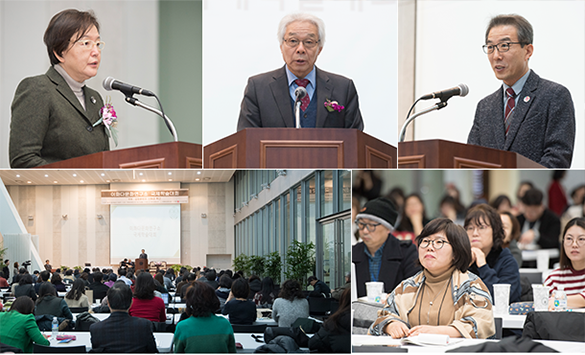 The conference began with the opening speech by Jang Han-up, director of the Center for Multiculture Research, followed by congratulatory addresses by President Kim, Heisook; Cho Nam-chul, executive director of the ADF; and Kim Kwang-ho, Secretary-General of Korean National Commission for UNESCO. It continued to give diverse case presentations on interculturalism by country in Europe and Asia, and conducted various study seminars on intercultural philosophy, special education, multicultural education, intercultural education and literature, etc.
Director Jang stressed the importance of intercultural education in his speech, saying "In order to become a multicultural advanced country, Korea needs to take the ethnic homogeneity not serious, and perform intercultural education in which we critically reflects on ourselves as a prerequisite to understanding others' culture." In addition, President Kim said in her address, "Ewha opened the Multicultural•Intercultural Studies (MIS) at the Graduate School in 2014, and is teaching intercultural studies solely in Korea," and added, "I hope that the conference will be a place to find how to graft intercultural education onto social phenomena, and the results will spread widely in education, religion and society at large."
Executive director Cho remarked, "One of the important challenges for the future in our society is to deal with problems that multicultural families are facing. I believe that the conference is meaningful academic light to brighten up healthy Korean society." Secretary-General Kim delivered a congratulatory message, saying "While UNESCO announced the guideline for intercultural education in 2006 and has continued to emphasize it as a concrete, practical tool for world citizenship education, the intercultural education has not have a high profile in Korea," and added, "I hope that diverse and in-depth experiences and knowledge will be shared through this conference embracing the spirit of UNESCO which tries to accomplish world peace by understanding and respecting different cultures."

In the conference, Michael Reiterer, Ambassador of the European Union to the Republic of Korea, which is suggesting directions on cultural diversity of European Union, gave a lecture about "cultural diversity, multiculturalism and intercultural experiences in European Union." Micheline Rey, former professor at Geneva University, who is working as an expert in intercultural education in Europe, which is experiencing multicultural society prior to Korea, gave a presentation themed "historical consideration on the intercultural education of the Council of Europe." In particular, Ambassador Reiterer said with force, "Cultural diversity in Europe is common heritage, and intercultural dialogue will contribute to solving the world's challenges such as prevention and coordination of conflicts, integration of refugees, overcoming violent extremism and preservation of cultural heritage."
On top of that, cases were presented from Asian countries which are going through similar process toward multicultural society to Korea. Professor Noriyuki Nishiyama at Kyoto University, Japan and professor Zhihong Pu at Sun Yat-sen University, China spoke with emphasis about the necessity of intercultural education adjusting to each country's situation where various cultures exist, under the theme of "developmental process of interculturalism in Japan" and "intercultural education in China," respectively.