A new milestone is set for the training of future female medical scientists by the establishment of "the School of Medicine's new campus" equipped with the state-of-the-art system for education and research and "Ewha Womans University Seoul Hospital,' a truly new concept of a patient-oriented hospital.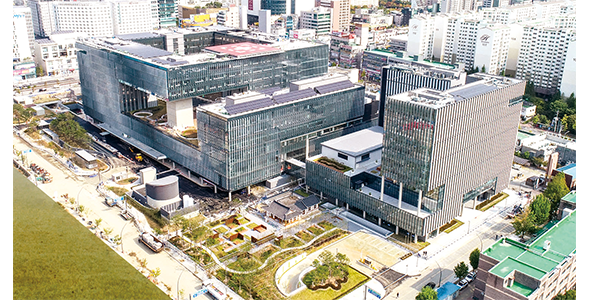 Ewha held the dedication ceremony to mark the completion of the School of Medicine's new campus and Ewha Womans University Seoul Hospital in Magok District, Gangseo-gu, Seoul, on November 12 (Monday). The ceremony was also to celebrate the restoration of "Boguyeogoan," which was the first women's hospital and medical school in Korea.
The completion ceremony, which was held at the auditorium located in the 3rd floor of the School of Medicine, took placed in the following order: dedication worship, briefing on the construction, commemorative and congratulatory speeches of the outside and Ewha's esteemed guests, introduction of HI (Hospital Indentity) of Ewha Medical Center, award ceremony of the plaques of appreciation and contribution and new building tour.
President Kim, Heisook said in her speech, " 'Boguyeogwan,' a medical school established 'for women and by women' in 1887, played a role in breaking down the wall of discrimination and became the basis of Ewha Womans University School of Medicine," and added, "The completed construction of the School of Medicine's new campus and Ewha Womans University Seoul Hospital would make it possible to conduct the state-of-the-art medical education, research and treatment at top-notch facilities by expanding spaces for education, research and medical treatment." Jihee Lee, dean of the School of Medicine, showed a feeling of expectancy on the Esther Building which comprises medical complex where cutting-edge medical science research and converged clinical research can be conducted, and also mentioned, "Ewha School of Medicine will do its best to grow as a research-focused medical school to conceive advanced converged studies."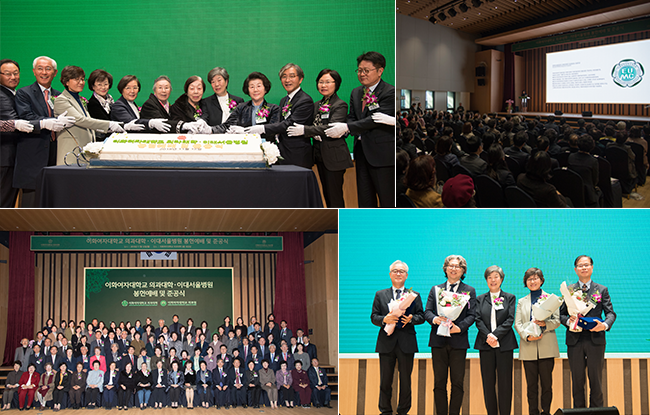 The new campus of the School of Medicine, which is scheduled to formally open in the first semester of 2019, was built with a capacity of 12 above-ground floors and five basement floors across a total land area of 3,000 pyeong (around 9,920 square meters), and equipped with the most advanced lecture rooms and medical library for education and practices as well as medical school dormitories, etc. In addition, the new campus has advanced educational systems including Ewha Medical Simulation Center (EMSC) for preparing practical test of the National Medical Licensing Examination, the integrated management system, the Ubiquitous Based Test (UBT) for taking medical examinations using a tablet PC, the Learning Management System (LMS) which is an online learning platform, along with the auditorium and international conference room with simultaneous interpretation facilities.

Ewha Womans University Seoul Hospital plans to formally start in February 2019, with a capacity of 1,014 patient beds across ten above-ground floors and six basement floors in a total land area of 10,091 pyeong (around 33,360 square meters). The Hospital aims to diminish the risk of infection and provide a pleasant unit environment by establishing the standard general care unit as three-person rooms and all intensive care units as one-person rooms. On top of that, it will be operated as a global hospital with promoting specialization for severe and complex diseases including top five cancers, cardiovascular and cerebrovascular diseases and organ transplantations, etc.; strengthening the capability of academy-industry joint research on future diseases; and having the most advanced international medical center and a premium health promotion center.