Scranton College (Dean: Seahwa Kim) held a lecture by Irina Bokova, the former Director-General of UNESCO at the LG Convention Hall in the International Education Building on Thursday, November 1, 10:30 a.m., as the 18th Scranton College Global Lecture Series.
Irina Bokova, a Bulgarian politician and the former Director-General of UNESCO, has worked in the field of international relations for more than 20 years. She served as Bulgaria's ambassador to France and to Monaco, Bulgaria's Permanent Delegate to UNESCO, and the Deputy Minister of foreign affairs and the Minister of foreign affairs. Since she took office as the first female Director-General of UNESCO in 2009, she has dedicated herself to working for the international community over nine years. In 2010, she was awarded an honorary doctoral degree of politics from Ewha for her highly appreciated accomplishments in the promotion of women's rights and interests.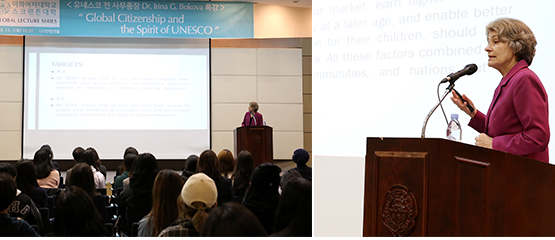 In this lecture given under the theme of "Global Citizenship and UNESCO Spirit," Bokova introduced the Agenda for Sustainable Development that includes 17 sustainable development goals (no poverty, good health and well-being, quality education, gender equality, climate action, industry, innovation and infrastructure, partnerships to achieve the goal, to name a few), and said that the world is being faced with crises and challenges in multiple aspects. Citing one of the famous Nelson Mandela's quotes, "Education is the most powerful weapon which you can use to change the world," she emphasized the importance of education, to which all countries around the world need to pay particular attention.
In addition, Bokova introduced Incheon Declaration, "Education 2030: Towards inclusive and equitable quality education and lifelong learning for all" adopted at the 2015 World Education Forum, and mentioned that education is the most powerful and sustained investment to foster "global citizens" with the capacity of resolving various issues facing mankind. In addition, she said that a large number of female students around the world including developing countries have not been provided with educational opportunities for various reasons and we should endeavor to improve "education for girls." She wrapped up her lecture by stressing once again that "global citizenship education" is the opportunity of and the key to resolving a number of challenging issues of the world.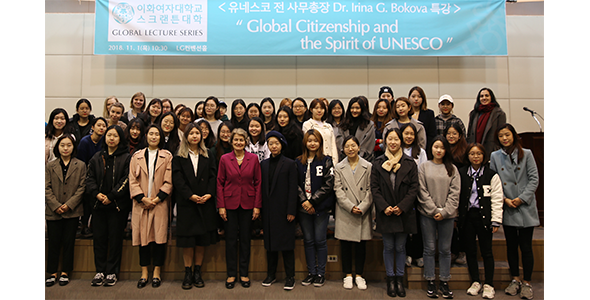 Meanwhile, Scranton College has three undergraduate programs: Scranton Honors Program, Korea's first open-major program; Convergent & Interdisciplinary Studies, which established Brain & Cognitive Sciences major in the undergraduate program for the first time in Korea; and Division of International Studies, Korea's first English-exclusive undergraduate program. Since its establishment in 2007, this college has made strenuous efforts to foster global professionals who will lead the knowledge and information society.