Ewha Womans University invited Asa Regner, Deputy Executive Director of UN WOMEN and held a lecture titled "Economic and Political Empowerment of Young Women around the World" at Emerson Chapel of Graduate School Building on Friday, September 14, 10 a.m. Behind Ms. Regner's visit was that the university as one of the biggest institutes for women rights and women leader education is recognized its contribution to the world women education.
UN WOMEN was founded in 2011 to dedicate to the abolition of gender inequality, enhancement of women's rights and interests, and gender equality in economic development, human rights, and security sectors, and is the biggest international organization for a single issue of women that has helped over 1.5 billion women and girls across the total 52 nations. Ewha signed the first MOU with this UN agency in 2012 for gender equality and women education cooperation, and has cooperated with the agency for six years, and in 2015, Ms. Phumzile Mlambo-Ngcuka, Executive Director of UN WOMEN, visited Ewha and discussed various exchange activities, including internship programs.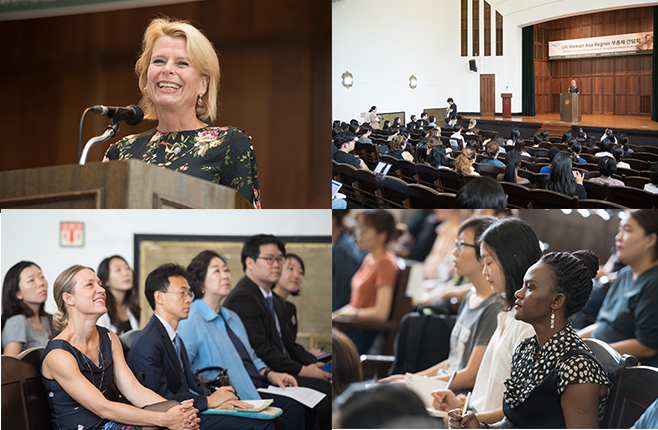 Ms. Regner pointed out in the lecture many social issues including the Me Too movement arising around the world and discrimination against women labor force while young women makes efforts to recognize their values and develop their abilities through their jobs, and discussed with students about what women and the UN can do.
In particular, she defined the Me Too movement as a women right movement arising from efforts to protect women's dignity and resolving real-life problems, not something abstract or superficial, and stressed that the UN is taking seriously gender equality based on human rights under the circumstances that the world is not equipped to manage gender matters. In addition, she remarked that we need to tackle difficulties such as the wage gap between men and women and discontinuity of women's career, which are caused by perceptions that labor of women is less valuable than that of men, adding that in order to address the issue, it is also important that how many women can enter the political field that makes policies.