President Kim, Hei-sook visited Beijing, China from May 3rd (Thu) to 6th (Sun) and expanded the international exchanges with China.

For starters, she visited China Soong Ching Ling Foundation (CSCLF) on May 3rd (Thu) and discussed the international exchanges with Wang Jiarui, Chairman of CSCLF, to agree that they would come to an agreement this year. CSCLF is a non-profit organization which moves forward in pursuit of strengthening friendly international relations, seeking world peace, exchanging with Taiwan, promoting reunification, developing education for the young and enhancing exchanges with friendly organizations at home and abroad. On the evening of that day, the president was in attendance at the eve dinner for opening of "Beijing Forum 2018", an international academic forum co-held by Korea Foundation for Advanced Studies and Peking University.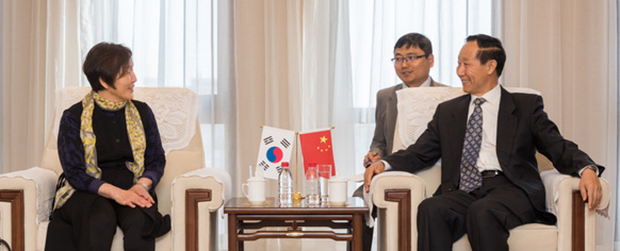 On May 4th (Fri), Kim was invited to attend the 120th Anniversary Commemorative Celebration of Peking University. In this commemorative celebration, presidents of global leading universities, including University of Harvard, Yale University, Stanford University, and University of Chicago of the U.S., University of Heidelberg of Germany, University of Oxford and University of Cambridge of Britain, University of Tokyo, Kyoto University, and Waseda University of Japan and a delegation of Kim Il-sung University of North Korea, as well as presidents of domestic major universities. They shared their opinions in the event.

The president attended the "World University Presidents Symposium and Beijing Forum 2018" on May 5th (Sat) and, with the theme of "Modern University Systems", she gave her speeches on a panel discussion with the presidents of University of Chicago, Beijing Normal University, and Durham University of Britain in the session of "Mission of University". Ms. Kim delivered a message that "universities need to pursue the glocalization in the circumstances that it is hard to expect the effects of the Fourth Industrial Revolution and the future development" and gained audience' sympathy.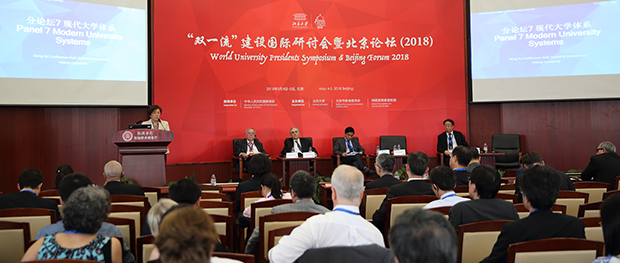 On May 6th (Sun), she met with Ewha's Beijing Alumnae Association officials and strengthened the Ewha network within China. President Kim introduced Ewha's ongoing major strategies and discussed how to sustainably develop the future of Ewha with Ewha alumnae in China.