Ewha held the foundation ceremony of Hokma Liberal Arts College, the exclusive institution for general education as well as an academic forum at LG Convention Hall on Friday, December 4. Derived from a Hebrew word meaning 'wisdom,' 'getting wise,' 'diverse knowledge,' Hokma does not simply mean theoretical knowledge, but rather practical wisdom. Ewha established Hokma Liberal Arts College by expanding and reorganizing the existing Center for General Education, with the aim of cultivating 'THE Talent (Leading Talent, Wise Talent and Practicing Talent)' through an enhanced liberal arts education focusing on strengthening students' core capabilities.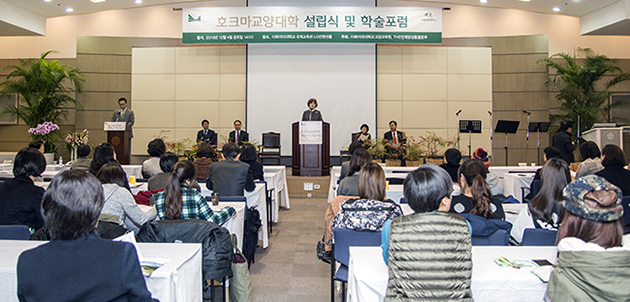 During the foundation ceremony, Suh Hyuk, the General Director for 'THE Talent' cultivation, said "I am confident that Hokma will develop into the world's best college of liberal arts, producing talent that meets the demands of the future by expanding liberal arts courses customized for education users, strengthening creative convergence-integration education and self-driven general education." President Choi Kyung-hee explained the purpose and meaning of the establishment of Hokma Liberal Arts College, and said "I will spare no effort to offer systematic and specialized general education that can foster the kind of talent Ewah pursues." The ceremony was followed by an academic forum, where professors with a profound knowledge of general education presented the historical implications of Ewah's liberal arts education as well as leading vision under the theme of 'Hokma, a new horizon of Ewha's general education.'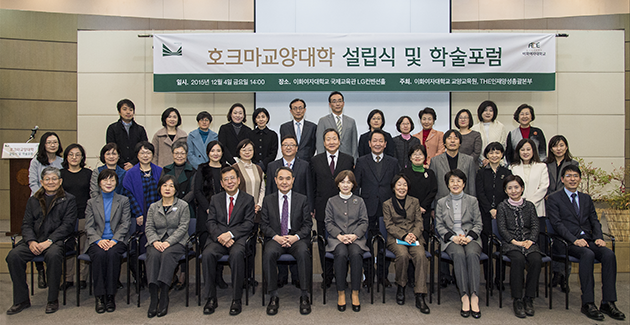 Starting from the first semester of 2016, Hokma Liberal Arts College is scheduled to provide a new liberal arts curriculum, with a view to cultivating 1) creative global talent with convergence-integration capabilities, 2) practical talent capable of meeting social needs and 3) sympathetic talent capable of leading harmony in communities.