This month, Ewha Womans University introduced the Korea-Massive Open Online Course (K-MOOC) service, so now everyone can enjoy Ewha's high-quality lectures online free of charge.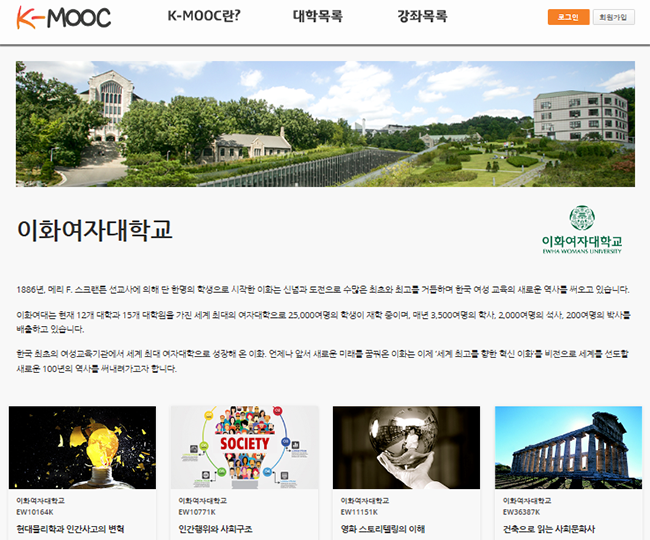 Ewha is participating in the K-MOOC service, in which a total of 27 courses are made public free of charge on the website (www.kmooc.kr) thanks to Korea's nine leading universities including Seoul National University, Yonsei University, Korea University, and Korea Advanced Institute of Science and Technology (KAIST). Previously in 2013, Ewha played a leading role in the MOOC service by introducing regular courses on the web through "iTunes U" for the first time in Korea, at which time two of Ewha's courses were ranked among the top ten educational courses of iTunes U. Now Ewha is joining the K-MOOC service, which is expected to appeal to e-learners.
From this month Ewha will provide four lectures online: "Modern Physics and the Revolution of Human Thought" by Prof. Kim Chanju (Physics); "Understanding Movie Storytelling" by Prof. Lyou Chul Gyun (Digital Media); "Socio-Cultural History Interpreted through Architecture" by Prof. Yim Seock-jae (Architecture); and "Human Action and Society Structure" by Prof. Hahm Inhee (Sociology).