Office of International Affairs Held Information Sessions on Exchange Programs for 2019-2nd Semester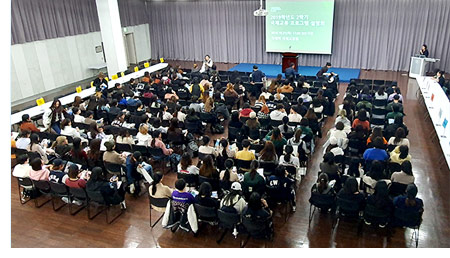 The Office of International Affairs (Director: Kim Bong-jin) held an information session on the international exchange program for students who are registered for the 2019 second semester at the ECC theater on October 31. Ewha offers diverse international exchange programs to nurture global talents who can play a role as a world citizen. The Office of International Affairs has held an information session each semester to provide accurate information on various overseas learning programs and encourage student participation.
During the morning on October 31, officials of the Embassy of France and the British Council in Seoul were invited to provide information on higher education in France and the United Kingdom. From 5 p.m. staff members of Office of International Affairs explained the specifics of Ewha exchange programs, qualification and procedure for application, how to fill in and submit an application form to foreign universities, and other overseas learning programs and scholarships. A one-on-one consulting session was also held by students who had already experienced the program, to provide more authentic information from the perspective of students.
Ewha Womans University provides students with diverse opportunities to study abroad through the international exchange program, overseas language learning programs during the summer and winter vacations and other individualized programs. A total of 1,100 students in 2018 and 1,000 students to date in 2019 had been sent to foreign universities to hone and develop global competence.
The director of the Office of International Affairs, Kim Bong-jin said, "I hope Ewha students will enjoy the opportunity to escape the mundane life and embrace a new perspective to find a direction in life by studying abroad."