Ewha Spreads Value of Knowledge Sharing through K-MOOC Lectures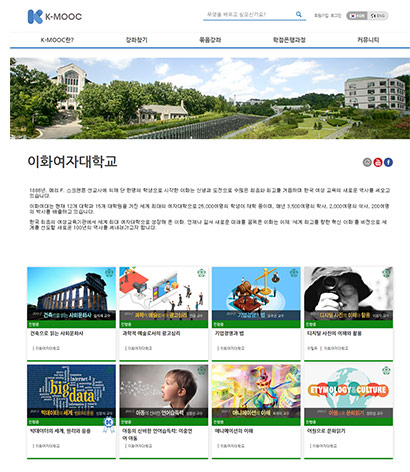 The Center for Innovation in Education of Ewha Woman's University is offering the university's distinguished educational content through Korean Massive Open Online Course, or K-MOOC, and leading the way to global knowledge-sharing. K-MOOC, administrated by the National Institute for Lifelong Education, provides free online lectures in higher and vocational education. Starting in October 2015, it enrolled a cumulative total of 350,000 members in just three years (as of Dec. 2018) and exceeded 580,000 in number of course registrations.
Ewha participated in K-MOOC starting from October 2015, offering four lectures. The number of lectures has reached 14 as of the second semester of this year and they have been acclaimed for excellency in content. "Modern Physics and Transformation of Human Thinking" by professor Kim Chanju of the Department of Physics, in particular, was voted for the most satisfying lecture in 2015 and 2018 by the participants. "Principles and Application of Big Data" by professor Shin Kyung-shik of Business Administration set a record in 2018 as the most-registered class.
The Ministry of Education of Korea has announced a plan to invite more renowned university lectures in such subjects as humanities, social studies and engineering as well as to develop diverse contents including the Fourth Industrial Revolution and vocational education by 2022 with the aim of opening more than 1,200 K-MOOC lectures. Based on K-MOOC service, Ewha Woman's University is preparing to put forward an innovative university model through the "value of sharing" and to open and spread its outstanding lectures for all participants' creative and proactive learning.
[Fall 2019 K-MOOC Courses]