An Undergraduate of the Division of Mechanical and Biomedical Engineering Published Research Results in an SCI-level International Journal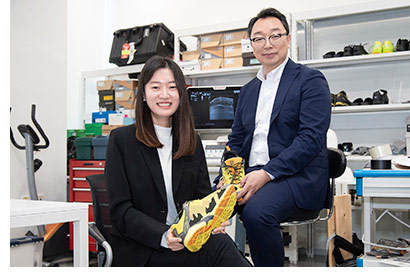 Jaeyeon Wee, a student in the incoming class of 2017 for the Division of Mechanical and Biomedical Engineering at the ELTEC College of Engineering, published a paper in an SCI-level international journal, for which she led the research as the first author under the guidance of Professor Taeyong Lee. Wee is receiving attention for her feat, which is remarkable given that she is still an undergraduate student.
Wee's paper, titled "Biomechanical effects of variable stiffness shoes in normal walking after 60-minute adaptation," was recently released in the online edition of International Journal of Precision Engineering and Manufacturing.
Arthritis is so common these days that more than half of the population aged 75 and older suffer from the disease. Therefore, new approaches that will be effective without surgery are required. In the study led by Jaeyeon Wee, movements and an electromyogram (EMG) were analyzed by using the variable stiffness shoes (VSS), in which the stiffness rate of the inside and outside of the shoes' midsoles were set differently. Then, the biomechanic effects of VSS immediately upon usage and after 60 min of adaptation were compared. The results proved that VSS not only slowed the onset of arthritis, but also helped relieve pain after the development of arthritis. In addition, the study showed the potential of the shoes that can be developed into medical devices in the future beyond the conventional role of protecting the feet.
Wee said, "I decided to study in the Division of Mechanical and Biomedical Engineering, because I had taken an interest in medical devices when I saw my grandmother suffering from an illness had difficulties moving around. Since my first year at Ewha, I have continued research on shoes with medical functions by participating in the research activities during my undergraduate studies and in Undergraduate Research Program (URP) funded by the Korea Foundation for the Advancement of Science and Creativity."
Professor Taeyong Lee, the corresponding author, emphasized that the study is significant in that it serves as a good example of "Bench to Market," making results of the laboratory reflected in an actual product. Professor Lee added, "This is in line with the vitalization of education linked with industries, the development goal of the Division of Mechanical and Biomedical Engineering, and we will continue to conduct research in cooperation with industries in the future." Black Yak Co., global outdoor apparel brand, is discussing the research cooperation with Ewha Woman's University based on the results of this study in order to utilize the long-term prevention effect of VSS.