A Joint Research Team in Chemistry & Nanoscience Published a Research Paper In Nature Communications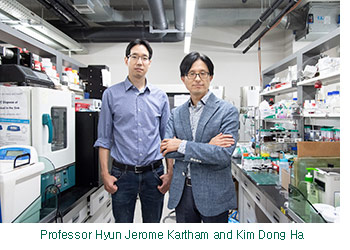 A joint research team led by professor Kim Dong Ha and Hyun Jerome Kartham in Chemistry & Nanoscience of the College of Natural Sciences achieved the world's highest resolution by realizing highly saturated structural colors, and published this research outcome in the prestigious academic journal Nature Communications.
Structural colors, which are produced by interference of light due to structured surfaces, have recently drawn drastic attention thanks to its eco-friendly and harmless attributes. In particular, the structure of structural colors, though smaller than the wavelength of light, has the ability to display colors and thus can become tens of thousands of times smaller in size than commercial display pixels.
While the existing method of miniaturizing pixels resulted in desaturation of colors, the joint research team led by professor Kim Dong Ha and Hyun Jerome Kartham succeeded in miniaturizing pixels of structural colors based on a new mechanism of reduced scattering of metals, rather than on the metal absorption, leading to the realization of ultrahigh resolution and color saturation.
These features are well suited for snapshot hyperspectral imaging camera that requires ultrahigh resolution. Also, this research can be applied to cryptography and advanced display thanks to dramatically increased data storage space.
Published in Nature Communications on October 21, the paper titled "Ultrahigh Resolution and Color Gamut with Scattering-Reducing Transmissive Pixels" was written by two lead authors including researcher Lee June Sang and Park Ji Yeon in her master's program, and two corresponding authors including professor Kim Dong Ha and Hyun Jerome Kartham.