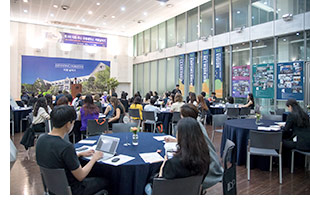 Ewha-Luce International Seminar: Expanding Horizons is held from June 26 (Wed) to July 13 (Sat) at Ewha Womans University. As an international seminar jointly hosted by Ewha Womans University and the Henry Luce Foundation, Ewha-Luce International Seminar: Expanding Horizons aims to help female graduate students in natural sciences and engineering fields in the U.S. and Asia to develop their career and promote their mutual exchanges and further to cultivate the next generation of women leaders in the field of science.
To mark the fifth anniversary, a total of 26 female graduate students from domestic and foreign universities including the U.S., China, Hong Kong, Japan and Sri Lanka will establish interdisciplinary global networks and engage in activities including research exchanges and discussion with experts. These participants were selected through a competition in the fields of sciences, technology, engineering and mathematics (STEM).
Under the theme of Expanding Horizons, this seminar is composed of four sections of Leadership, Empowerment, Networking and Vision, offering various programs such as leadership training, lectures on science topics, presentations and discussions, workshops and cultural and historical exploration.
The Henry Luce Foundation is a nonprofit foundation founded in 1936 by Henry R. Luce, co-founder of TIME and Life magazines. Since the Foundation engaged in partnership with Ewha, its first partner in Asia, in 2015, it has provided yearly programs aimed at fostering the next generation of women leaders.