The Existing Webmail System of Ewhain.net for Ewha Undergraduates and Graduates Converting to Gmail System with Unlimited Email Capacity
Smarter Campus Life with Google Cloud Service – Google Drive and Calendar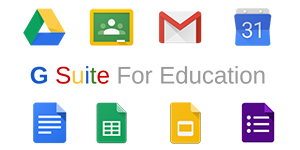 The Office of Information and Communications launches Google's integrated communications and collaboration solution, named 'G Suite for Education', on April 30. 'G Suite for Education' is an integrated suite of all Google products that can be utilized for educational purposes, whose service supports sharing and collaboration among members on the campus by allowing them to use e-mail, drives, and calendars. Through such a service, Ewha plans to provide online education that goes beyond the limits of time and space of traditional classroom settings and takes the lead in establishing smart campus that supports convenient collaboration among members of Ewha.
With the introduction of G Suite, Ewha is able to upgrade e-mail services that are essential for students and provide other new different services. Undergraduate and graduate students can use the existing student email (@ewhain.net) interworking with Gmail, and even after graduation they can use all Google services with their school account. In addition, G Suit can be used in all classrooms on the campus for management of assignment, quizzes and communications by class, as well as various document collaboration and scheduling.