The Ewha Language Center (Director Lee Hae-yeong) held the 26th Korean Speaking Contest for Foreigners at Ewha-Samsung Education Culture Building on December. 29, 2017.
Starting in 1991, the contest was designed to encourage and support foreign students here to learn the Korean language. This year, over 500 students, including foreign exchange students, international students, and those in Korean language courses, participated in the event.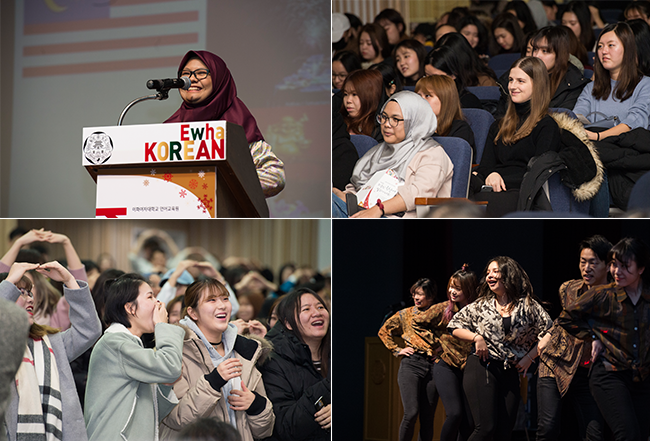 Among those participants, 10 student from nine countries including the U.S., China, Japan, Iran, New Zealand, Malaysia, and Uzbekistan were qualified for the contest after winning the preliminary round under the topic, "Korea's distinctive culture, learning about Korea through travel, and the Korean Wave and I." They showed off their Korean language skills by speaking about wide-ranging topics such as love for the Korean Wave including K-pop, similarities and differences between Korea and their home countries, unique properties in Korean cuisine culture, and personal experiences involving Korean dialects and abbreviations.
The first prize went to James Shaquille Hakeem, a U.S. linguistic major at Georgetown University. He said he thinks Korean is more interesting than any other languages. This contest received great response by sharing two distinctive features in the Korean language culture: honorifics, which reflect the country's respect for elders, and abbreviations, an indicator of the fast-changing Korean society.