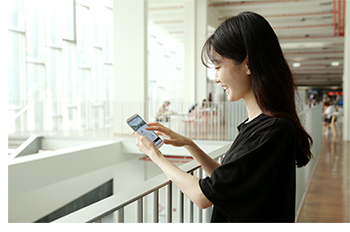 Ewha Womans University opened a new service on Sep. 11 (Mon.) which allows various academic certificates issued on the smart phone, the first of its kind in the nation's universities. The new service makes it possible for users to get the issuance of various certificates including enrollment, graduation and transcripts anywhere at any time, a service fit for the current network environment characterized by the ubiquity of mobile devices such as smart phones, tablet PCs, and laptops.
Before the new service, certificates were issued only from the certificate issuing machines on campus or on PCs connected to wired Internet. But with the new service, both current students and alumnae can get copies of certificates on their mobile devices, which can also be sent out via fax or email and be printed out.
The service users are required to install "Ewha Home", the university's mobile application on their mobile devices or to upgrade their already installed one. Then, the certificates issued can be directly sent out by e-mail or fax multiple times. The fee is 500 won for the current students and 1,000 won for alumnae, the same rate for the existing issuance service on the Internet. The new service's English version is also launched at the same time to offer foreign students global academic services.