Ewha Womans University held a dedication ceremony for its new dormitory and a groundbreaking ceremony for Ewha·Ottogi Childcare Center on August 30 (Wed.).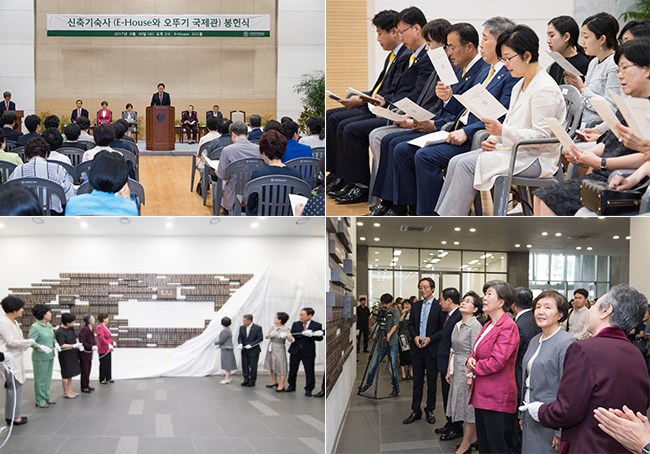 The new dormitory successfully opened after the completion of its construction in August last year. The new dormitory consists of E-House, Ottogi Global House and ROTC Building. The new building can accommodate around 4,300 students including about 2,150 of E-House and about 430 of Ottogi Global House who are able to stay in the campus to dedicate themselves to studying.
"Green energy" such as solar power and geothermal energy takes up 15 percent of total energy consumption of the eco-friendly building, and it has won an excellence award at the 35th Seoul Architecture Award this year. The dormitory was designed as a unit for occupancy, which is rarely seen in other domestic universities, to ensure that students can have their own private space while two to ten residents share one community space and learn mutual cooperation, consideration, communication and solidarity.
Following the dedication ceremony, a groundbreaking ceremony for Ewha·Ottogi Childcare Center was held in the construction site near Asan Engineering Building. The employer-supported childcare center is built based on a development fund in three billion won raised by the well-known food company Ottogi in 2013. The construction of the childcare center is slated to be finished around May in 2018.
Together with the newly built dormitory and the employer-supported childcare center, Ewha will take the lead in providing an outstanding education environment and creating an environment where a balance between work and family is maintained.