Ewha Womans University welcomed 3,410 freshmen at the matriculation ceremony for the 2017 school year at the Welch-Ryang Auditorium at 10 am on February 24.
Song Tuck-soo, acting president of Ewha Womans University, said, "Starting with only one student, today's Ewha has now become a world-renowned university that has produced more than 200,000 alumni." He also added, "Ewha has had some difficulties recently but I believe that with the spirit of Ewha that has made the history of Ewha, we will be able to overcome difficulties and take another leap forward."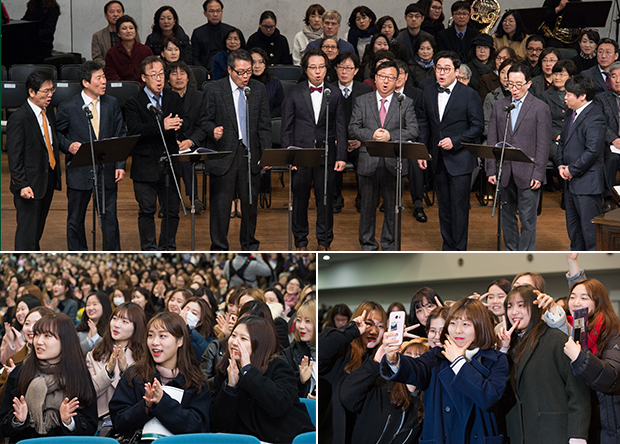 On behalf of all freshmen, Yoon Su–yeon from the Elementary Education Department of the College of Education, and Mun Dana from the College of Business Administration recited a Student Pledge. "I did not want to forget that I am of Korean descent. That is why I decided to enter Ewha Womans University to study the Korean language and business administration," Mun Dana from Kazakhstan whose father is a Russian Korean said. "After graduation I want to become a business person who contributes to the exchange between Kazakhstan and South Korea."
The new students admitted on the day include eight students from six countries including Vietnam and Thailand. They are the beneficiaries of EGPP (Ewha Global Partnership Program) scholarship. EGPP is Korea's first full scholarship program for female talents of developing countries. Ewha started this program in 2006 to foster female talents from around the world. So far, 224 students from 39 countries have been selected and 128 graduates have benefited from this program. This year, four undergraduate students and four graduate students have been selected for this program.
Immediately after the matriculation ceremony, the Ewha Sarang program titled "Welcome to Ewha" was held in the same place at 11:00 am to welcome new students. Some Ewha students came as guests and shared their lively campus life as well as their university life know-how. This event provided a variety of information about campus tours, exchange student programs, volunteer activities, overseas exploration programs, the teacher training program, club activities and mentoring programs in order to help the new students enjoy their campus life.