The Ewha Office of International Affairs (OIA), headed by Ihn-Hwi Park, held the 2016 Fall Study Abroad Fair on November 4th to raise interest in and support for international programs among Ewha students and provide a venue of meeting between Ewha students and exchange students
.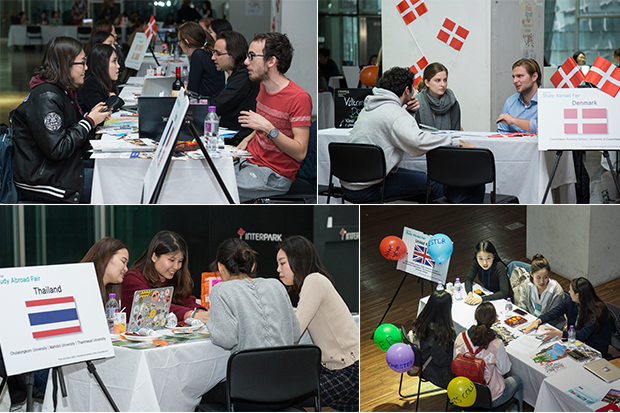 Starting with the 2nd briefing on international programs for Ewha students, the Fair presented various sessions prepared by several external organizations such as Nuffic Neso Korea, Temple University Korean Office, German Academic Exchange Service, and Uni Support, which provided a presentation on what to prepare before going abroad as an exchange student.
Meanwhile at the Multipurpose Hall, multiple tables were set up by country, which were hosted by the members of the Student Representatives consisting of 95 foreign exchange students from 91 universities from 19 countries including Germany, the United States, and Switzerland, and 38 Ewha students who have experiences of studying abroad as exchange students. At these tables, foreign exchange students and Ewha students shared information on each country's culture and school life, and one-on-one consulting sessions were also available at the OIA's consultation table.
Ewha Womans University has been providing students with opportunities to go global through diverse exchange student programs. Since Ewha opened the first international summer school in 1971, the University has annually attracted over 3,700 international students who participate in Ewha's short or long-term education programs while more than 1,600 Ewha students go abroad every year to achieve their bigger dreams.