On August 29 (Mon.) at 11 a.m., a welcome ceremony was held in Lee Sam-bong Hall of the ECC building to greet students participating in 2016 2nd Semester Exchange and Visiting Student Program for International Students. A total of 507 foreign students enrolled in the program this semester, recording the highest number ever and hitting a 500 mark for the first time.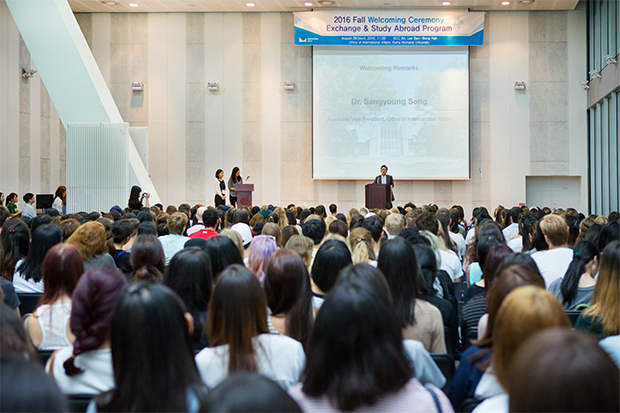 The international students are comprised of 95 males and 412 females from 236 universities in 30 countries including Germany (79), China (63), the U.S. (58), France (57) and Japan (51).
The orientation held in the afternoon offered academic resources including course registration along with information about a stay in Korea and a certificate of alien registration. During the following Q&A session, students freely asked additional questions.
Lastly, the international students took a campus tour guided by Professional Ewhaians at Cultural Exchange Buddy or PEACE Buddy. PEACE Buddy is a volunteering club and its members serve as a mentor to international exchange and visiting students and help them adapt to the life in Korea and at Ewha. A total of 67 buddies are active this semester and they will provide foreign students with practical help for their adjustment by offering information on campus life and performing various activities such as Buddy Lunch and Farm Experience.