The Korea center for Meridian 180 at Ewha (Professor Eunice K. Kim at Ewah Law School in charge) cohosted "Developing Proposals for Risk Mitigation in the Asia-Pacific Region: A Global Summit" in Okinawa, Japan, with Cornell University and University of Tokyo from July 8th to 10th.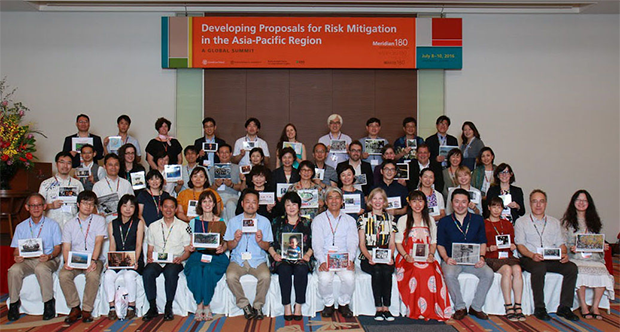 Meridian 180 is a global community of intellectuals which focuses on the Pacific Rim region, and was founded in 2012 at Cornell University for the purpose of opening new perspectives in the multinational and interdisciplinary conversation on issues of the Asia-Pacific region. Since then, Meridian 180 has done various activities such as hosting multilingual online forums and offline international academic conferences, and organizing a working group, an expert group in a specific issue. As a partner university in the Asian region, Ewha and University of Tokyo actively have been operating each center for Meridian 180 in Korea and Japan, respectively.
In this international conference, about 60 scholars, experts, staff, NGO leaders, and policymakers from Korea, Japan, the U.S, Australia, China and Belgium exchanged and discussed their creative opinions on crisis. With the discussion, they could develop a new insights and approaches on various future crises in the Asia-Pacific region, and plans to publish a book of the insight and thoughts derived from this conference.