The opening ceremony for the "Ewha-Luce International Seminar: Expanding Horizons 2016" co-hosted by Ewha and the Henry Luce Foundation was held at 10AM on Wednesday, June 22 at the ECC Lee Sam-bong Hall.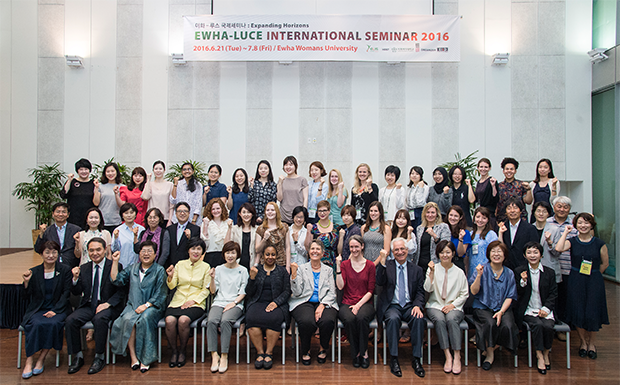 The seminar which marks the second anniversary this year lasted for three weeks until July 8 (Friday). It began with the support of a program for fostering next-generation women leaders in STEM (Science, Technology, Engineering, and Math), a three-year grant of $1.5 million from 2015, which is given to Ewha by the Luce Foundation.
The Henry Luce Foundation is a not-for-profit corporation established in 1936 by Henry R. Luce, the co-founder of Time and Life magazines, with a vision to promote cultural and academic fields. The foundation, the single most significant source of support for women in STEM in the US with raising and granting the largest amounts of scholarship fund, provides Ewha with the scholarship program for the first time in Asia as it acknowledged Ewha's capabilities and efforts to cultivate female leaders in the future.
A total of 23 graduates (master's & PhD) in STEM fields from the USA, Japan, Taiwan, Korea, etc. participated in this seminar. In particular, Korean graduates who had taken part in the first annual seminar joined some programs helping the participants of this year. This program is highly expected in building direct networking connections among the participants from diverse cultures of Asia and America.