Ewha Womans University started the international summer program by holding the matriculation ceremony of the International Co-ed Summer College (ISC) for on Tuesday, June 21, 2016.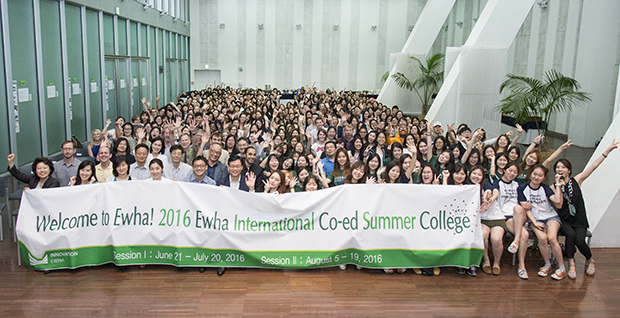 Ewha ISC, the nation's first international summer program, opened in 1971 for the purpose of giving foreign young people the opportunity to study Korean history and culture. In 1977, in association with Kansas University, Ewha operated "Kansas at Ewha Program," pioneering "mutual exchange of credits with foreign universities" through which academic credits earned at the ISC are accepted at foreign counterparts.
Based on its 46-year experience, Ewha ISC has been improving the participants' satisfaction by offering separate programs, which runs for four weeks from the end of June and for two weeks in August. In particular, the ISC specializes in the courses such as Korean Studies, East Asian Studies, Women's Studies, Music and Art, and the practice classes of Korean traditional music and arts are very popular among many students. And since 2011, North Korean Studies has been offered in English.
In addition, unlike other international summer schools operated on a large scale of over 2,000 international students, Ewha ISC with around 480 participants is receiving very positive responses from not only the international students but also the invited professors thanks to the distinguished operation that is characterized primarily by thorough support, small-scale classes, and diverse culture-experiencing programs.