The Office of Information and Communications (led by Lee Meejeong) launched eduroam (education roaming) on May 12, Thursday, which enables free use of wireless LAN at educational institutions around the world.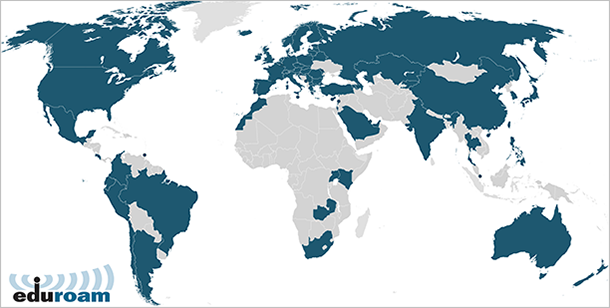 Eduroam is a global wireless roaming service developed for international research and educational communities, and nearly 11,000 educational institutions of 69 countries such as colleges and research institutes are participating in the service. The number of Korean participating institutions including national and public universities has increased since 2015, and Ewha Womans University deployed its own wireless LAN, EWHA WiFi, meeting the conditions for joining the service.
Every Ewhaian who visits a participating institution, whether at home or abroad, can use wireless LAN by selecting "eduroam" that shows up as a WiFi SSID and putting his or her "student number (or faculty number) @ewha.ac.kr" for the SSID ID, and the password used at the Ewha Portal Information System as the SSID password. Visitors to Ewha also can use wireless LAN without additional request if the institution they belong to participates in the service.
For more details, see the Ewha Womans University website:
http://www.ewha.ac.kr/mbs/ewhakr/subview.jsp?id=ewhakr_060402040000