Ewha held "The 3rd Yoon Hoo Jung Unification Forum" under the theme of "Unification and Women Ⅱ: Memory, Communication, and Future" at Lee Sam-bong Hall in the Ewha Campus Complex on Thursday, May 19th at 2:00 pm. The forum served as a venue for profound discourses on women's role in the unification process of Korea.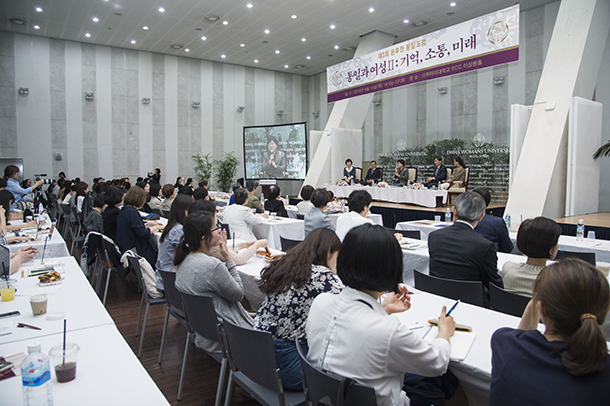 As an open venue to discuss the unification of Korea, Yoon Hoo Jung Unification Forum was initiated by Korea's first female constitutional scholar and former 10th Ewha President, and President Emeritus Yoon Hoo Jung, who donated all of her assets in 2013 according to her conviction that the most urgent need in Korean society is overcoming the division of the peninsula.
In the forum presided by Kim Seok-hyang, director of Ewha Institute of Unification Studies, President Choi Kyunghee asserted in her congratulatory address, "Ewha has achieved consistent growth for last 130 years, overcoming challenges of reality while defying the impossible. We have to exert our efforts together to make this forum a genuine venue and stage to open up new horizon for the discussion on unification, according to the teachings of professor Yoon that unification is the call of our times which is to be completed at all costs."
In the following keynote speech, Park Se-il, Professor Emeritus at Seoul National University (SNU), brought up discourses on the necessity of unification, the scenarios of unification, conditions of unification, and unification and women under the topic of "Why is the unification of Korea a must?" and "Is the unification of Korea possible?" Later in the forum, Kim Sun-Uk, former Ewha President presided at the in-depth discussion on the unification of the Korean Peninsula and problems of women for two hours with Korea's leading experts in unification studies. The participants include Park Se-il, the keynote speaker and Professor Emeritus at SNU; Yoon Young-kwan, Professor Emeritus at SNU and former Minister of Foreign Affairs; Eun-jeong Lee, Director of Institute of Korean Studies at the Free University of Berlin; and Hyun In-ae, Senior Researcher at Korea Institute for National Unification.
Through this forum, Ewha aims to remember the history of the division of the peninsula, offer an opportunity to share and communicate relevant experiences with younger generation, and lay a foundation to prepare for the unification which is Korea's future. In particular, Ewha hopes that this forum will provide an opportunity to explore what roles women could play and what to prepare in order to extensively reflect women's voices in the process of unification.