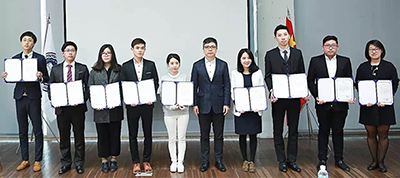 The Chinese Ewha Students Association (CESA) was named as the best association for international students on March 19th at the Spring Education Working Conference of the Chinese Students and Scholars Association in Korea (CSSAK).
The CSSAK, with its branches based in local areas and universities, holds general meetings more than once a year. This conference, which was attended by the Chinese embassy's Education Councilor Ai Hongge and Education Secretary Yi Yeongchen as well as about 180 Chinese students, presented Chinese national economic plans and gave awards to outstanding Chinese students associations in Korea.

The CESA won the best student association award for the university's excellent services for its Chinese students such as various programs helping them adapt early to Korea and improving their educational and living conditions here.