The delegation of Guizhou province including its Communist Party secretary Chen Min'er visited Ewha Womans University and made an educational exchange agreement on April 22 (Fri), 2016.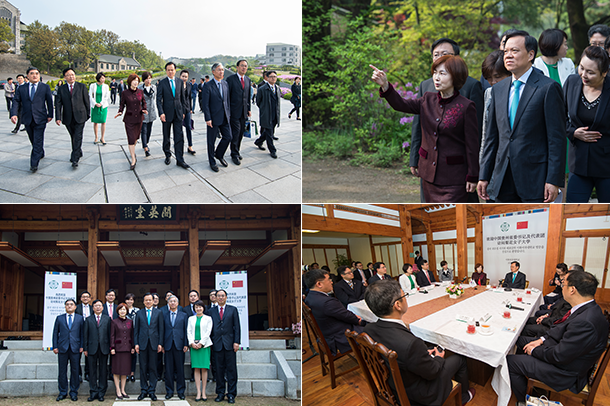 Chen is a close ally and one of the most trusted by Xi Jinping, president of China and General Secretary of the Communist Party of China, and currently considered a candidate for the next political leadership. Upon the invitation of the Korean Ministry of Foreign Affairs, he is scheduled to enjoy a five-day trip in Korea from April 19 (Tue) to 23 (Sat). His visit to Ewha was achieved at his request.
The delegation of Guizhou province including Secretary Chen and Wang Fengyou (director of the Guizhou Provincial Department of Education), and Qiu Guohong (Chinese ambassador to Korea) visited Ewha at 8:30 am on April 22 to meet President Choi Kyunghee and then looked around Ewha Campus Complex (ECC) with her. The Chinese delegation was warmly welcomed by students of Chinese Ewha Students Association (CESA). Chen said, "I've heard that Ewha Womans University has produced a wealth of female talent for 130 years and gained international fame. We'd like to learn about wisdom and experience Ewha has accumulated for years."
Secretary Chen, in particular, wrote an expression "梨花清明" in his own handwriting, which is quoted from a poem of Wu Weixin in the Song Dynasty, meaning praising and praying for the spring of Ewha (梨花). He suggested working together for mutual benefit through education opening, and educational exchanges and cooperation between Ewha Womans University and 57 colleges and universities in Guizhou province. Moreover, Chen officially invited president Choi and Ewha students to the 9th China-ASEAN Education Cooperation Week that will be held in the early August.
After their visit to Ewha, President Choi, Secretary Chen and other members of the delegation participated in the opening ceremony of "Higher Education Fair in Guizhou province, China" at 9:30 am. The fair was designed to enhance mutual interest between universities in Korea and higher education institutions in Guizhou province of China and to promote cooperative programs for human resources cultivation. At this fair, Ewha Womans University alone succeeded in making an agreement for educational exchange with the Guizhou Provincial Department of Education among domestic universities. Both of the two institutions agreed to cooperate in leadership training for directors, faculty training, student exchange programs, and exchange between educational institutions through this agreement.