The delegation of Cornell Law School visited Ewha Womans University on March 29, 2016 in order to gain a comprehensive understanding of the current status of "Meridian 180" conducted by Ewha Womans University and boost exchanges between the two universities.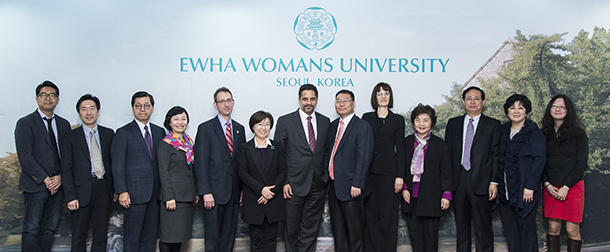 Medirian 180 is an interdisciplinary research program and a think-tank that Cornell Law School initiated in March 2012 in order to find novel solutions to key challenges and international tensions in the Pacific Rim, with its first overseas center launched in Ewha Law School in November 2014.
The delegation, which consists of Edua Eduardo Peñalver (President of Cornell Law School), Peter Cronin (Associate Dean), and Annelise Riles (founder and the chief director of Medirian 180), had discussion, following a luncheon, on the current status and future directions of the program with Korean members of Medirian 180 at the Office of International Affairs on the Ewha campus. In addition, officials at the two universities and figures from external institutions exchanged various opinions on a university's social responsibilities and ways of strengthening mutual development, including the operation of a "Korean working group" in order to reinvigorate the participation of Medirian 180 members and enhance the effectiveness of the program.