The Ewha-Harvard College in Asia Program (HCAP) Seoul Conference 2016, an academic and cultural exchange program for students of Ewha Womans University and Harvard University, was held from March 12 to 20 of this year.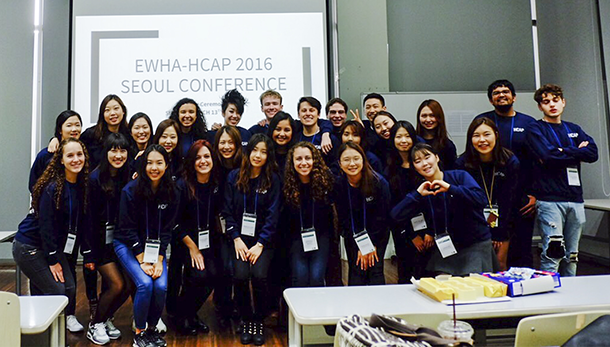 HCAP is the academic and cultural exchange program that Harvard University has conducted since October 2003 with an aim to foster global leaders fully conversant with both the U.S and Asian countries, and it boasts the largest scale among Harvard's exchange programs with Asian institutions. Ewha has been the first and only partner of Korea for nine executive years since 2007. The program consists of two conferences: at the first conference selected students from Asian partner universities are invited to the Harvard, and at the second conference the delegation of Harvard students is dispatched to Asian countries. Now eight Asian prestigious universities including Ewha are holding the second conference where students themselves plan and run such events as a variety of academic lectures and cultural experience.
Eight Ewha students participated in the first Boston Conference hosted by Harvard from January 16 to 24. And this second conference was held by Ewha in Seoul.
Under the theme of "Equality, Tolerance and Freedom," an in-depth discussion regarding the North Korea and the reunification of Korea was taken place at this Ewha-HCAP Seoul Conference. As part of the program, the students visited to the Institution for Unification Education and the Joint Security Area (JSA), other than going on a field trip to experience Korean traditional culture. In addition, there was a public lecture not only for Ewha-HCAP participants but also for the entire Ewha students.