On March 8 and 9, the Career Development Center (led by Kang Min-a) held a Career Design Exposition for Freshmen at the multipurpose hall of the Ewha Campus Complex (ECC). First started in 2014, this year's exposition provided a mentorship program connecting freshmen and seniors in order to help the newcomers actively explore their career choices. While the event was designed to support mainly freshmen, the second- and third-year students were also welcomed if they liked to join.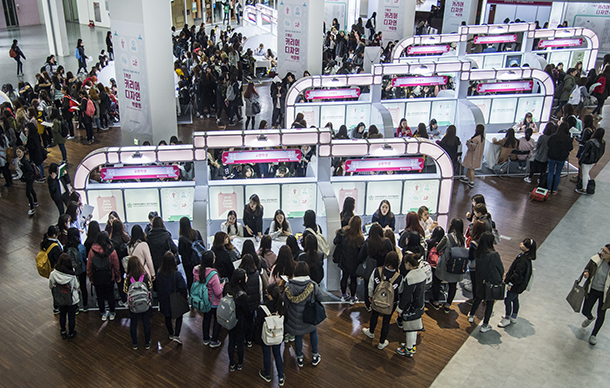 There were 36 booths across 14 areas including domestic and foreign internship, state exam preparation, career club, exchange student, volunteering, and off-campus activity. The exposition also featured various programs like a chance to try out a Career Card and e-Quest, a career roadmap designed to help Ewhaians build their career effectively and make a successful entry into society. Besides, about 90 registered Ewha students, including those who passed the Civil Service Examination, started their own business, returned to Ewha after studying in an Asian, European, or American university as an exchange student, or have been developing their career successfully, shared their experiences and knowhow at the exposition.
The Ewha Career Development Center provides a wide range of programs that are customized to the types of occupations and each grade. For instance, the center provides the upper grades with recruitment information and state exam preparation support, helps them prepare for actual exams and interviews for better performance, and runs programs for the lower grades to explore their career choices.