Ewha Womans University held the 2016 commencement convocation and greeted 3,424 incoming students in Welch-Ryang Auditorium at 10 a.m. on February 26 (Fri.). President Choi Kyunghee offered words of encouragement through the commencement speech by saying, "Ewha Womans University celebrating its 130th anniversary this year has grown into a truly global hub for women's education, and has become one of the world's prestigious universities that produced about 210,000 alumnae." And she added, "I hope that you Ewha freshmen will pursue your dreams and ideals on the basis of what the great graduates of Ewha have pioneered."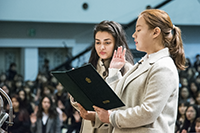 After the president's speech, Snow White and the Brothers, a choir consisting of male professors of Ewha, sang, and Ewha Brass Ensemble performed for the freshmen. Also, Kim Dayeon, an incoming student of College of Liberal Arts, and Tariq Sahrish Riaz took an oath as representatives for all of the new students. Tariq is an incoming student of EGPP (Ewha Global Partnership Program), which is a Bachelor, Master, and Ph.D. degree program for women talents from developing countries, run by Ewha Womans University. She will major in Division of Christian Studies, which is an unprecedented case for foreign students. As a Christian, unlike her catholic parents, Tariq decided to apply for and enter Ewha through a Pakistani church. She said, "I am honored to have the opportunity to enter Ewha through this great program named EGPP in Korea, a very attractive and exotic country," and added, "I am very happy and excited to meet new friends from different backgrounds and to study in a new environment."
After the commencement events, the Office of Student Affairs conducted Welcome to EWHA, a welcome ceremony for freshmen. In this event, students shared their know-how of college life, information about Ewha campus, and keys to a successful advance into society.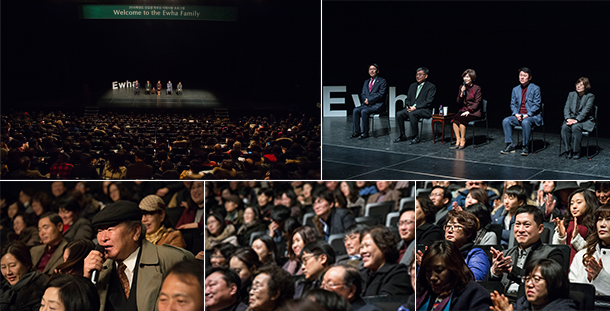 During Welcome to EWHA, another welcome event named Welcome to the Ewha Family was held for parents of the freshmen at Samsung Hall in ECC. About 700 family members of the freshmen were invited to the event and were informed of visions, development plans, and support programs for outstanding students. During a talk with the president and appointed professors, parents and members of the students' families had a satisfying communication time where they could ask questions in person about the university.