The domestic education volunteer team of Ewha Volunteers practiced neighborly love of serving and sharing through volunteer work during winter vacation throughout the country. The domestic education volunteer team of Ewha Volunteers comprised of 87 enrolled students spent the meaningful winter vacation by carrying out education volunteer work at 18 organizations such as local children's centers and primary, middle and high schools throughout the country from January 4 (Mon.) until January 30 (Sat.).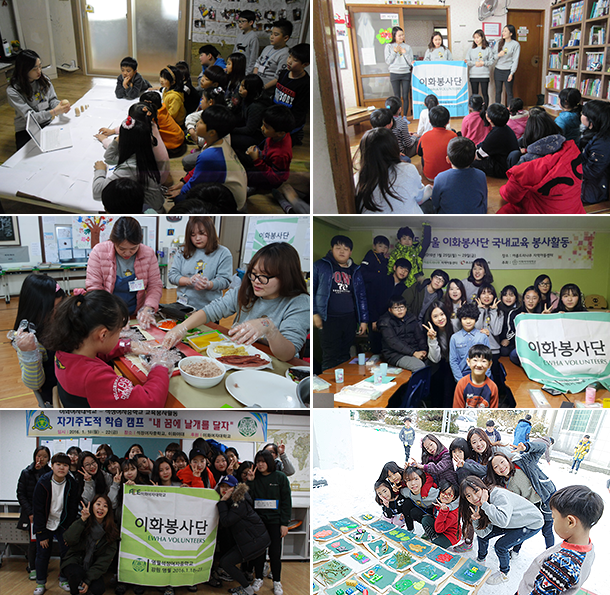 The team who visited local children's centers prepared various programs including scientific experiments, cake making, paper arts, and gymnastic activities for children requiring learning. The team who visited primary, middle and high schools carried out education volunteer programs tailored for grades including self-driven learning method coaching, career camp, and counseling. Students actively participated in the mentoring education programs, showing lots of interests in methods of writing learning planners and studying methods.
The domestic and overseas education volunteer teams and the overseas medical volunteer team who completed all of the activities met and held a disbanding ceremony for the 2015 Ewha Winter Volunteers on February 18 (Thu.). Dean of Student Affairs Seok In Sun encouraged the volunteers by saying that she is proud of the volunteers who successfully finished the winter volunteer work based on Ewha's differentiated volunteer programs and is hoping that they can learn to appreciate and to fully practice the spirit of sharing and serving through the volunteer work in the society. There were awards for North Korean Studies Department Prof. Kim Seok Hyang (Director of Vietnam Education Volunteer Team), College of Liberal Arts Prof. Kim Ji Sun (Director of Japan Education Volunteer Team), and Associate Dean of Student Affairs Kwak Eun Ah (Director of Cambodia Education Volunteer Team) participating as professors in charge, along with reports of volunteer activities including sharing volunteering experiences and matters to be improved for management of future programs.