Ewha Womans University has organized a variety of events for freshmen ahead of the 2016 new student convocation scheduled on February 26 (Fri).
Each college has prepared an orientation to help new students adjust to their new life at Ewha. The orientation will include introduction of colleges and majors, academic programs, how to register courses as well as a conversation with seniors and guidance for school life in general.
In addition, "Welcome to Ewha," an Ewha Sarang program for freshmen, will immediately follow the new student convocation on February 26 (Fri). Freshmen will have an opportunity to get to know Ewha through a talk concert with seniors on school life, a meeting with a special guest, etc. On the same day, "Welcome to the Ewha Family," a program for parents of new students, will also take place.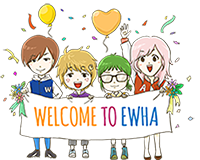 The student support team of the Office of Student Affairs has produced and revealed a webtoon character to help students become familiar with student activity programs. The team plans to continue developing on the character by reflecting opinions and feedbacks on how to better utilize it from new and enrolled students.
The public relations team in the Office of University Planning and Coordination has made and posted a "Ewha Handbook for Freshmen" on the Ewha Womans University homepage. It provides an assortment of information for new students such as school introduction, campus tour, various student activities, global programs, and career exploration.
Details on academic calendar and welcome events for freshmen can be found on the website of each college.