The performance presentation for "Small Group Activity Program for Each Area of Interest" and "Operation of ACE Student Promotion Group" was held on January 14 (Thu.). These programs have been conducted by Ewha as part of "2015 Advancement of College Education (ACE) project."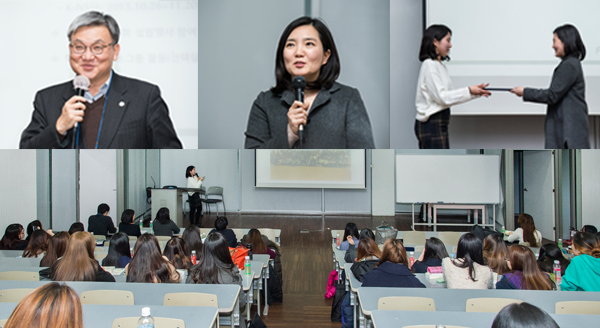 "Small Group Activity Program for Each Area of Interest" is a support program for students to design their future and proactively carry out activities on a variety of subjects related to business start-up regardless of their major. The performance presentation consisted of activity reporting of outstanding small groups and award ceremony. These groups were selected based on the evaluation of small group activity reports and outcomes.
Grand Prize was awarded to "Rainbow" team that taught writing skills to multicultural youths. Kim Min-jeong (Korean Language Education, entering class of 2013), leader of the team said that "I'm thankful that our team was able to provide abundant education opportunities with the participation of more graduates thanks to the support of the ACE project."
Meanwhile, the evaluation session was also held on ACE Student Promotion Group formed to spread to the effects of the ACE project. "Performance Session for the 1st ACE Student Promotion Group" was composed of report on regular monitoring on ACE program pursued by the group for the last semester, planning and participation of student events, and small group activities, as well as award ceremony for best performing groups.
Selected as a new member of universities for the ACE project operated by the Ministry of Education in July 2015, Ewha has pursued innovative education programs that can lead students to exert their full capabilities and promote development, through improvement of major, liberal arts, and extracurricular courses, as well as education systems, including professor-learning system and school system.