Ewha's HOKMA Liberal College hosted "2016 Ewha Ecrire" at the Lee Sam-bong Hall of the ECC building at 2:00 p.m. on January 8 (Fri.) with a view to improving students' capacity in reading and critical thinking.
This year's competition, newly expanded from "Ewha Reading Competition" which has been held each year since 2012, added the category of travel essay writing. Participants selected either a book review or a travel essay and handwrote for three hours in a condition where they were not allowed to carry multimedia devices, including mobile phones and laptops.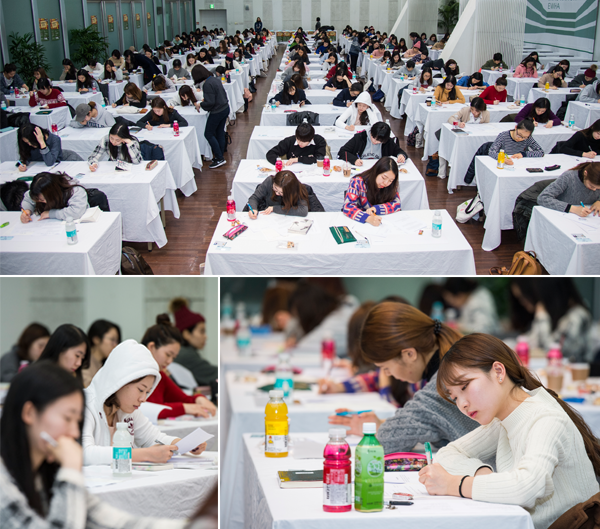 Although this year's competition was held during the winter vacation period, about 160 students participated in the competition, showing keen interest in the renewed competition. Han Su-yeong (English Language & Literature, entering class of 2014) who took part in this year's competition, as well as last year's, said that "I've participated in the category of travel essay writing this year. I feel satisfied because this year's competition has been diversified compared to last year's in its participation methods, including the expansion of categories and the addition of free topic."
HOKMA Liberal College has developed and operated a variety of liberal arts curriculum with the aim of developing intelligence as university students and forming identity as Ewha students. "HOKMA program to strengthen capacity" designed to cultivate students' character and practical capacity includes Ewha Ecrire, Book Concert, Ewha Sharing Competition, and Ewha Communitas Theatre Festival.