On January 4, Ewha Womans University held the "New Year's Greeting with the Ewha Family 2016" at the Lee Sam-bong Hall and the Multipurpose Hall of the ECC building. The event was attended by Chairperson of Ewha Haktang Chang Myong-sue, President Emeritus Yoon Hoo Jung, President Choi Kyunghee, current and former faculty and staff of the university, faculty and staff of Ewha Medical Center and affiliated schools, and student representatives.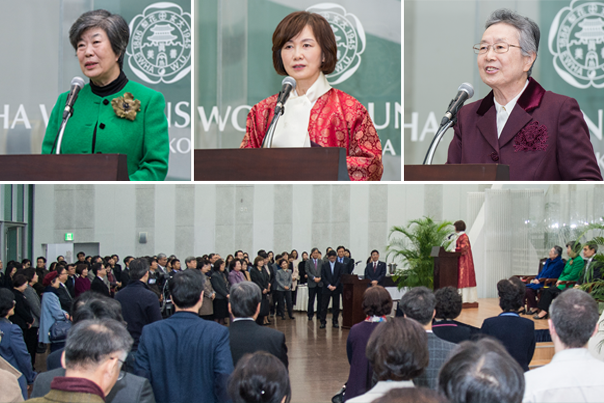 Chairperson Chang Myong-sue said, "Since it was founded as Ewha Haktang 130 years ago, Ewha has grown into the largest women's university in the world thanks to our many dedicated teachers and alumni. Now we should make concerted efforts to help Ewha foster talents who contribute to peace and development of mankind."
President Choi Kyunghee stressed, "This year is significant for Ewha as it marks the 130th anniversary of our school's foundation. Let's strive together to make 2016 a happy year for the Ewha family based on trust and passion."
President Emeritus Yoon Hoo Jung said, "For the past 130 years, we have never been divided in the face of a crisis. Not only did Ewha always overcome the crisis but also turned it into an opportunity as a pioneer in the history. This year, as always, let us continue to do our best to bring honor to Ewha Womans University."
After the greetings, Professor Park Mija (Voice) performed "In the Cloud of Flowers" and "Il Bacio" to the piano accompaniment of Professor Jeong Ho Jeong (Keyboard Instruments), and attendees exchanged New Year's greetings and had pleasant conversations while enjoying refreshments.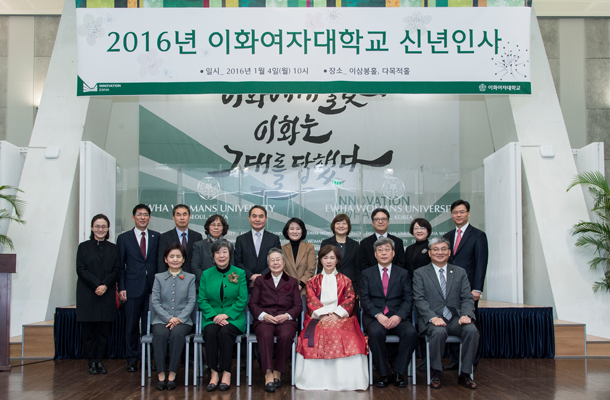 President Choi Kyunghee offered New Year's greetings to each of the attendees and gave words of blessing to student representatives of the Student Government Association, the Student Governments of College, the Ewha Campus Leader, the Ewha Campus Keeper, and the Ewha Weekly.