The Office of International Affairs at Ewha held the 2nd Ewha-HCAP (Harvard College in Asia Program) Homecoming Day on December 22, 2015. The Ewha-HCAP is an academic and cultural exchange program between Ewha and Harvard University. This year celebrated the 2nd Homecoming Day where alumni and students involved in the program gathered together.
Park Ihn-hwi, Vice President for Office of International Affairs, offered words of encouragement, saying, "I believe the Ewha-HCAP has become one of the representative international exchange programs of Ewha thanks to our brilliant students who exerted great efforts to host the program on behalf of our school." Jin Seo-yun, student president of the 2015-2016 Ewha-HCAP, expressed her gratitude, "Great support and love of our alumni and the Office of International Affairs enable Ewha to become and remain the only partner university in Korea of HCAP." At the 'session with seniors,' alumni shared their experiences and values earned through their activities in the program with other students. The session was followed by a variety of events including a cake cutting ceremony, gift presentations in lotteries and a photo exhibition, which were held to intensify solidarity between alumni and students.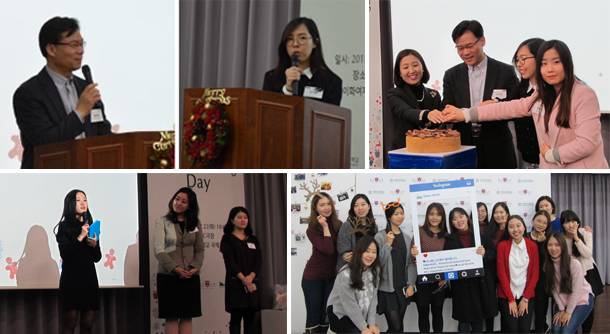 Since Ewha was selected in 2007 as the only domestic university with the partnership of HCAP, which is the academic and cultural exchange program of Harvard University, Ewha has held the program annually, with the number of students participating in the program reaching nearly 190 as of 2016. This year, 15 Ewha undergraduate students and 13 Harvard students are expected to participate in the 2016 conference, which will be held between March 12 and March 20.