Under the slogan, "Innovation Ewha: Leading Global Excellence," Ewha Womans University has pursued endless changes with the aim of placing amongst the top 100 ranks in the world over the past year. As a result, it made following remarkable achievements in various fields:
1. Power Verified by Outstanding Results
o Ranked Top among Domestic Universities in the Leiden University Ranking for Three Consecutive Years (2013-2015)
Ewha Womans University ranked 1st among Korea's universities in the "Leiden Ranking 2015," which evaluates the quality of the theses of 750 major universities worldwide, for three consecutive years (2013-2015), taking firm root as one of Korea's best universities.
o Selected for ACE
Ewha Womans University has been designated for the "2015 Advancement of College Education (ACE)" by the Ministry of Education and will have been supported by nine billion won for the next four years, which shows Ewha's reputation as the "quality education provider." Ewha will work hard to train "THE Talent" who will lead the world in the future, developing the TELOS Track system, opening the HOKMA Liberal College, and operating E³ Extracurricular programs.
o Acquired Level A in the College Structural Reform Evaluation
Ewha Womans University acquired level A in the "College Structural Reform Evaluation 2015" by the Ministry of Education, which is a comprehensive evaluation of Korea's domestic 298 universities as a higher educational institution. Ewha received a perfect score in the category of educational environment, which consists of quantitative indicators, and it got an almost perfect score in other categories consisting of both quantitative and qualitative indicators, which cover various matters such as education management, students support, and education achievements.
2. Excellence in Various National Examinations
o Greatest Performance in Legislative Examination for General Administrative Position (August)
Kim Na-yun, undergraduate student who entered Ewha in 2006 (law major), passed the 2015 Legislative Examination for General Administrative Position with the highest score.
o Greatest Performance in Higher Civil Service Examination for Educational Administrative Position (November)
Kim Hyo-ra, alumna who graduated in 2013 (business major), passed the 2015 Higher Civil Service Examination for Educational Administrative Position, scoring the highest marks. Ewha generated nine successful candidates, including Kim, among a total of 280 candidates who passed an open recruitment for higher civil service (public administration) of this year.
o Top-Four Achiever in Producing Successful Candidates for National Bar Examination ( November)
Ewha Womans University ranked 4th in terms of producing successful candidates for the 2015 National Bar Examination, following Seoul National University, Yonsei University, and Korea University. Among 153 successful candidates for the 57th National Bar Examination, 13 are alumnae of Ewha Womans University, which accounts for 8.5% of the total number of successful candidates and 22% of female ones.
3. Recognized Global Partner in the World
o Joint-Research with the Jackson Laboratory, the World-Famous Biomedical Research Institution


Early this year, Ewha Womans University appointed Charles Lee, the strongest candidate for the Nobel Prize and director of the Jackson Laboratory renowned as a leading institution in the biomedical field, as a visiting chair professor and established the "Ewha-Jackson Research Center for Immunotherapy of Cancer" to support actively relevant research, which has contributed to the improvement of Ewha's global research capacity. It is expected that the joint research by Ewha Womans University and the Jackson Laboratory will serve as an innovative role in raising the level of anticancer immunotherapy research of Korea on the world stage.
o UN Secretary General to Receive Honorary Doctorate from Ewha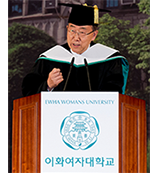 Ewha Womans University awarded an Honorary Doctoral Degree in Philosophy in Women's Studies to Ban Ki-moon, Secretary General of the United Nations, in May 2015. Ewha awarded the degree to him for his contribution to the improvement of gender equality and woman's rights as the 8th successive Secretary General of the United Nations, and he has become the first male to receive an honorary doctorate in Philosophy in Women's Studies from the prestigious women's university.
o Three Major Foreign Figures' Visit to Ewha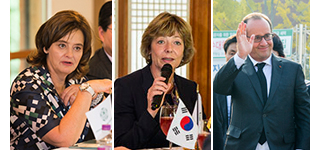 Major foreign figures, such as Cherie Blair (September), wife of the former British prime minister and chancellor of the Asian University for Women, Daniela Schadt (October), domestic partner of the President of Germany, and French President François Hollande (November), visited Ewha Womans University. The visit of the French president is especially significant in that Ewha is his first visiting school among Korea's universities since 1886 when Korea established diplomatic ties with France.